In the UAE, there are different types of bans: immigration ban, labour ban, permanent ban, 6-months ban, and one-year ban. As an expat in the UAE, you must know what constitutes these bans in order for you to avoid some terminable offenses as well as learn more about the labour law of the country.
Read: Things to Know Before Resigning from Your Job
In addition to understanding the labour law, you will also gain an idea of what to do and what not to do when you are dealing with employment matters. Expats who don't know anything about the bans will likely experience trouble because of a lack of knowledge. Becoming aware of this specific information will prevent issues to happen.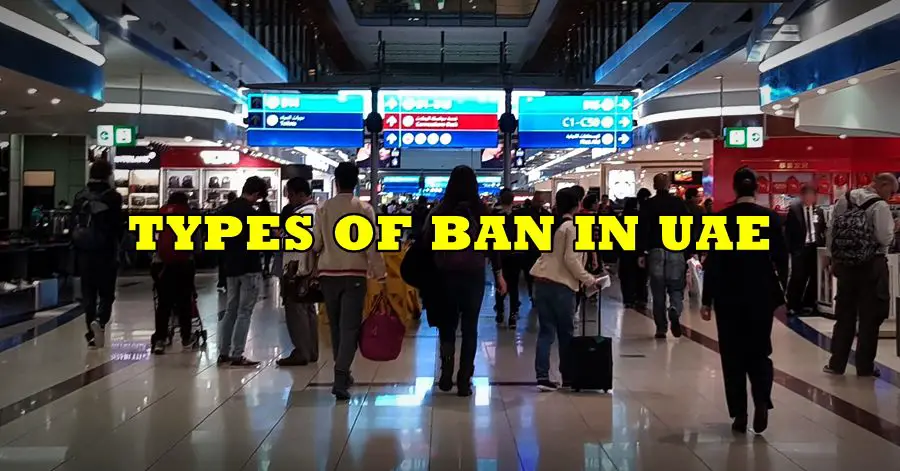 What are the different types of bans in the UAE?
Visa ban rules are a part of the UAE labor law for expats. It's not just about working and residence visa. There is still more information that you have to learn about the visa ban rules especially if you just started working in the country.
Even when you are under the probationary period or you got fired from your employer, these bans will not completely prevent you from looking for another company to hire you. Read the rest of this article to know more about the different bans in the UAE.
1. Immigration Ban
The first type of ban you need to observe when working in the UAE is an immigration ban. The government of the UAE will impose an immigration ban on you if you have criminal records in the past. The offenses can include rash drinking, debt, rape, bounced checks, sexual assault, theft, drinking, and other misbehavior. Even if you came clean in the UAE, if you committed misbehavior against the rules and regulations of the government, you will receive an immigration ban. This is the basic thing you need to know about the immigration ban.
2. Labour Ban
As the name of the ban implies, labour ban affects your employment in the UAE. But, to protect you from abusive employers and mistreatment, the government has assigned a few conditions before you receive the labour ban. The UAE government will impose labour ban on you if you will commit the following:
Your unlimited contract has been terminated even before you completed 1 year of service.
Your limited contract has been terminated even before you reach the expiry date of the contract.
When you violated the rule in terms of contract termination, your employer will take action for you to receive this ban.
If no application is applied by your existing or new boss, you will likely receive a labour ban from the government.
3. Permanent Ban
Also known as the permanent residency ban in the UAE, expats who committed serious offenses or absconded from their employers will be banned under this category. The government of the UAE will get your biometrics including your fingerprints and scanned samples. The UAE keeps these records to take note of the people who are banned.
4. One-year Ban
This is a temporary ban you can get if you will resign from your job before you complete the term of your limited contract. Expats who lost their cases against the ministry of labour in the country will also receive this ban. To prevent this from happening to you, you should be able to start the renewal of your work permit and visa before you reach the expiration date of your documents.
Another good thing about this ban, apart from being temporary, is that it can be lifted if you meet the following conditions:
A minimum of AED 12,000 salary if you are a degree bachelor degree holder.
A minimum of AED 7,000 salary if you are a diploma holder.
A minimum of AED 5,000 salary if you are a high school diploma holder.
Note that the minimum qualification to lift this ban is having a high school diploma.
5. Six-Month Ban
Compared to the 1-year ban or other types of bans, a 6-month ban is only applicable for 6 months. After that, it can be lifted and you can start working in the UAE again. However, you can't enter the UAE if you are banned under this category unless you have a tourist or visit visa. Expats who left their employers without valid reasons will receive this ban. This will be recorded in your labour card or work permit. So, if you want a clean record, avoid getting this ban as much as possible.
6. Employment/Work Permit Ban
Finally, you can get an employment or work permit visa ban depending on your offense. You can get this for a limited period of time, for 6 months, for 1 year, or it can be imposed on you permanently.
If you are an expat currently working in the UAE, there are ways you can avoid receiving these bad records. First, you must ensure that the employer you are working for is properly handling your employment. You should also know the full information about your employment contract. On top of it, you and the employer should talk about the extension of your visa in case you decide to work for a longer period of time. It's very rare that employers don't know about the employment rules. In case he/she is not aware, you can remind him/her so you can both avoid violating the rules.
Remember, everything should work perfectly with the Ministry of Human Resources & Emiratisation (MoHRE). Don't forget to share this information with your relatives and family who are in the UAE as well.