Are you thinking about quitting your job? Are you planning to transfer from your current employer to another? You're not alone! Many expats and domestic workers here in the UAE are thinking about the same thing and most of them are retiring from their current jobs for good reasons.
As someone who is currently employed in any city in the UAE, you need to be sure of your decisions. Resigning is not a good choice all the time. Yes, it gives you the freedom to choose another employer but what about the risks? Can you bear the impact of it on your life as an expat? Think about it carefully!
In the UAE, you will experience quitting your job for a few times. If you have been in this country for years, you probably know someone who does it all the time. However, resigning has good and bad consequences. So if it's your first time to do it, it's better that you have something to rely on to help you with your decision.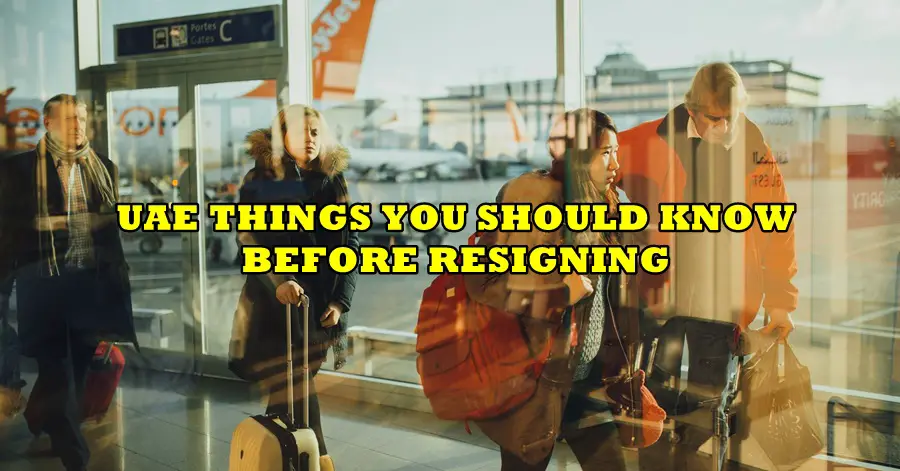 Things To Consider Before You Resign In The UAE
In this topic, we'll talk about helpful tips you can use before you resign, the possible situations that will happen when you resign, and some guidelines on how you can prepare for a new job.
Reminder: Never Abscond from your job!, whether you have pending cases or you don't want to work for your employer anymore. Absconding has plenty of consequences, it is better to resign properly.
7 Helpful Tips Before You Resign From Work
There are a lot of possible reasons why you want to quit your job. It may be to look for another career opportunity, to find a better boss, to be in a position with a higher salary, to pursue a career in a different industry, and so on. Whatever it is that you want to do that is requiring you to retire from your current job, here are some helpful tips to help you.
1. Read your employment contract again.
Before you start to work with your employee, you signed an employment contract binding you both. What you need to do is to read it again and understand the terms state on it. There you can see the policies set out by your employer regarding your notice period, gratuity pay, and other matters related to termination. The resignation has a proper process. You should also be aware of that before you submit your resignation letter.
2. You don't need the consent of your boss but informing him is good etiquette.
That's right. In the UAE, you don't have to get the consent of your employer when resigning. It is not required by the UAE Labor Law. On the other hand, your boss can compel you to resign from work. It's your decision if you want to leave your work or not. But, when resigning, it's best that you inform your employer about your plans to leave so he can do certain adjustments.
3. Serve your notice period.
One thing you can't skip when you are resigning from your work is the notice period which is 30 days. It is mandatory and it is included in your employment contract. Just a tip when you resign—serve your notice period! Or else, you will have to pay for compensation that is usually equivalent to a whole month of salary or more, depending on your agreements with your boss. Remember that your employer can file a case against you if you don't serve it. You will never have the opportunity to work in the UAE again if that happens!
4. Estimate how much you can get as gratuity pay.
If you work for less than a year, you won't be able to get a gratuity pay from your employer. But if you have been employed by the same employer for more than 1 year, you will receive your end of service benefit when you resign. It's important that you know how to compute your estimated payments. We have another article that can guide you, you may want to view it here so you can get an idea of how much you can receive before you decide to resign from your work.
5. Start drafting your resignation letter.
A resignation letter is a formal document that indicates your reason to leave, the effectivity of your resignation, and some words of gratitude for your employer. With a resignation letter, your boss will know that you have a formal intention to leave the company. You can submit it through your HR or email so the company can document it.
6. Expect a negotiation from your employer.
If you are a good employee, expect that your employer may try to negotiate with you. Your boss may offer you a higher salary, higher positions, or other benefits just so you won't resign from the company. This may be enticing but don't forget to read about the terms of the new offer. Don't just sign another employment contract. You have to identify what's new. Remember the reason why you are resigning and align your goals to the new role your employer is offering.
7. Always leave on good terms.
Never leave your employer on bad terms as this will affect your image as an expat here in the UAE. As much as possible, leave on good terms by serving your notice period, following the process of resignation, and submitting your resignation letter. This will help you find the right next job in case you are looking for one.
Important Terms
Now that you know what to do when before you resign from your job, it's time to know the major things you have to consider during your resignation. All of the things that will be mentioned below are all in your employment contract. Hence, you can refer to that document for better understanding.
1. Notice Period
You have to be mindful of the notice period in your employment contract. The most common number of days is 30 days but it can go up to 3 months. What the UAE Labor Law says is that after the notice period, your employer can't compel you to work afterward.
this is a kind of benefit that you can get when you resign from work. Usually, employees who served more than 1 year at work receive this kind of benefit. If you have worked for more than a year for your employer, you are definitely entitled to this benefit.
3. Visa
There are no visa fees due from you in case you resign from your work. Employers are responsible for any visa fees. It is also the responsibility of your ex-employer to cancel your employment visa. After all, they are your sponsor for your stay during your work with them. After your visa is cancelled, there is usually a 'grace period' where you need to either exit/leave the UAE or apply for a new UAE visa.
4. Airplane Flight Tickets
Upon the termination of your contract, your employer is the one to pay your airfare. But if you resign to transfer to another employer, your new boss will be responsible for the airplane tickets.
5. Types of Termination
There are basically two types of termination you have to watch out for. Under the arbitrary dismissal, your employer will pay you additional compensation because of wrongful termination. Meanwhile, a redundancy dismissal states that the only benefit you will receive is your notice period compensation or your gratuity pay.
6. Passport
If you agree to give your passport to your employer for safekeeping, you have the right to get it back. Your employer must not detain your passport as this is illegal and against the UAE Labor Law. You should keep your passport with you at all times.
7. Employment Certificate
You can request for your employment certificate stating your start and end date, the major role you did as an employee, and your salary details. This will be given to you if you leave your work on good terms.
Tips When Preparing for a New Job
A part of your resignation may be aligned to finding a new work here in the UAE. Because of lots of good opportunities in the country, you will never run out of options to choose from. We can't blame you for demanding a high salary and looking for a better job! But in case you are preparing for new work here, this is what you need to know.
1. Passport and Visas
Before you even come to UAE, your passport and visas are all set. In case you are looking for a new employer, you should see to it that you are holding an authentic passport that is valid for at least 6 months. As an expat, you cannot work on a visit or tourist visas. You need to have a legitimate work visa and residency permit so you can work and live legally in the UAE.
If you are hired by an employer, he/she should be the one to get your visa and work permits. Without this, you will face time in jail and even experience deportation. Both employee and employer will face the penalties and consequences.
2. Certificate of Good Conduct
As part of the requirements outlined in Ministerial Resolution of 2017, expats who want to work here in the UAE should be able to present a Certificate of Good Conduct from their home countries for the previous 5 years to prove that there are no criminal records under their name.
3. Health Screening
If you want to work here in the UAE, you also need to undergo a series of medical tests done at the approved health centers of the government here in the country. You will be tested for any communicable diseases and conditions such as HIV and TB. Those who have these diseases will be deported from the country immediately. So if you know that you have any communicable disease, make sure that you undergo medical tests in your home country first.
4. Certifications Attestation
For expats who are holding a degree outside the UAE. You need to get it certified from the UAE Embassy or consulate in your country.
5. Additional Exams for some Professions
If you are planning to switch to careers in the medical industry such as physicians and lab technicians, you must pass the exam of the Ministry of Health and Prevention first before you can practice your profession in the country. As for being a lawyer, you will not be allowed to practice your degree in the country because only UAE nationals are permitted to do it here.
Summary
That's all for your resignation need. If you have questions with regard to certain provisions, you can refer to your employment contract for clarifications. You can also go to the official website of the UAE. As someone who has experience being employed in this country, don't forget that you have to carry out that experience to your next employer.
Resigning from a job doesn't mean that you are retiring from being a career person. It's just that there are circumstances in expat life where you need to look for a better career. If you find this helpful, don't forget to share it with your family and loved ones here in the UAE!