If you have been watching vlogs about cars, you would know who Supercar Blondie is. Just recently, a video she uploaded on Facebook exploded with admiration as she surprised her Filipina employee with a lifetime savings of cash, which is sufficient to send her employee's son to college or even use it to build a house in the Philippines. What a generous boss!
Also Read: 10 Things To Remember During Your Job Interview in the UAE
Supercar Blondie is Alex Hirschi. She is a social media celebrity, presenter, and a vlogger of cars and automotive. A lot of people who are fond of cars and automotive know her for her videos and presentations. In a video she showed recently, she surprised her employee who has been serving her for two and a half years.
An OFW Receives Cash Gift From Supercar Blondie
Alex Hirschi is originally from Australia but right now, she is staying in Dubai. She is very famous for her videos related to cars. In fact, she has more than 30 million followers on Facebook, Instagram, and Youtube. Her latest video was not something about cars. Rather, it focused on her employee Avelina who is from the Philippines.
You can notice like most OFWs in Dubai, Avelina came to Dubai to work and support her family in the Philippines. She has two sons and she wants to send one to college, which is why she is saving a lot of her income to provide for the education assistance of her son.
Avelina, a Filipino Employee, Can Now Send Her Son To College
Supercar Blondie captioned this on her post—"A very special employee of mine has been saving up to send her son to college…I want to take this weight off her shoulders with this surprise. Thank you so much for all your hard work, Avelina."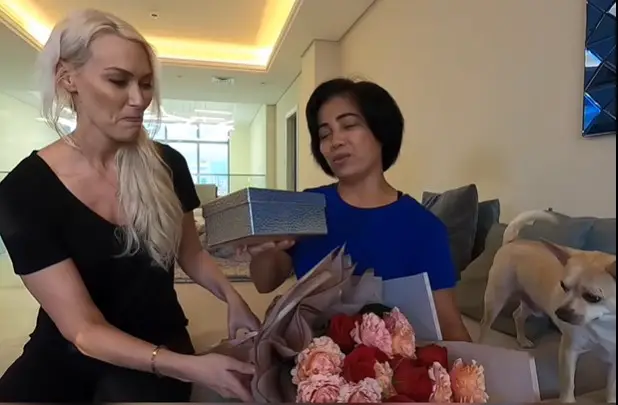 The surprise of the vlogger to her employee included a bouquet of flowers and a special box. Upon opening the box, Avelina found bountiful cash inside it. The amount of cash in the box can already pay for the college education of her son or she can use it to build her retirement home when she decides to go back to the Philippine during her retirement.
According to Avelina, she thought that what they were about to do was to make a documentary about Alex. She didn't know that the video was about her being a great help to Alex and her team. Avelina is a diligent, dedicated, and accommodating employee.
Recognizing an OFW's Hard Work
Alex wanted to recognize Avelina's hard work, dedication, and sacrifice, which is why she decided to give her a generous surprise that could somehow pay off Avelina's hard work, considering as well that the employee hasn't seen her family for quite a while now.
For many OFWs, it is a great thing to see Filipinos like Avelina getting recognized by their bosses for the hard work and effort they put into their jobs. Thanks to Supercar Blondie for being generous. She didn't just inspire Avelina and her family, but all Filipinos who are working abroad and who have been persevering for their families back in the Philippines.