With lots of people owning a smartphone today, it's normal to see someone who takes pictures of tourist spots, buildings, other people, and share them on social media. As an expat, you will surely get excited to take pictures of the UAE so that you can keep a remembrance or you can send them to your family in your home country. It's not totally bad to take pictures. However, in the UAE, public photography is restricted to certain places and certain conditions.
PLEASE READ: 17 Tips When Visiting UAE For The First Time
There are rules and regulations that you need to comply with. Being aware of the law will save you from committing offenses that are punishable. Here's what you need to know about public photography in the UAE.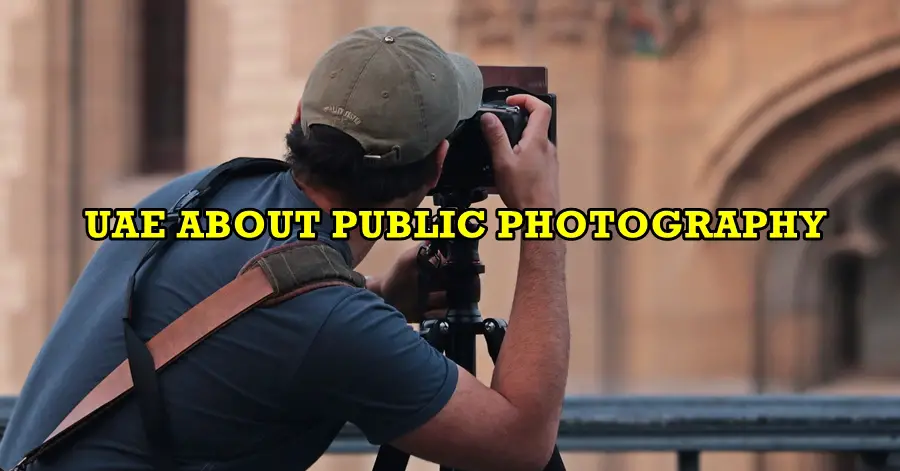 What are the rules and regulations related to public photography in the UAE?
Dubai and the rest of the UAE has many attractions that cater to tourists, families, and visitors. Given that this country is advanced in terms of technology, it is also not uncommon that many people want to take photos of locations and must-visit places. However, please make sure you are aware of some common etiquette and guidelines especially in terms of pictures and rules. Here are some tips:
1. Taking pictures of semi-government, government, and military buildings and sites are NOT allowed.
Exploring Dubai, Sharjah, Abu Dhabi, and other emirates are amazing. There are lots of good sights to see. As you traverse the cities, you will definitely see different semi-government and government buildings. There are also military sites located within the cities. As someone who is excited to take pictures, remember that taking photos of these public buildings are not allowed in the UAE. You will only be given the chance to do so if you have a special permit.
In Dubai, semi-government buildings include Dubai International Maritime Sports Club Field and Dubai International Financial Center. Government buildings include the Dubai Land Department and Dubai Chamber of Commerce & Industry. Military sites include the Dubai Civil Defense and the UAE Armed Forces General Headquarters (GHQ).
2. Ask permission first before using your camera to take a picture of someone.
Without consent, you are not allowed to take a picture of someone. In the UAE, it's essential to respect the privacy of other people. Else, you will violate Article 378 of the UAE Code saying that the camera used will be confiscated, any picture or recording will be deleted, and the photographer will be punished by imprisonment and fines if there is no permission to the take the picture. This means that before anything else, you have to seek the consent of someone.
3. Request approval first before doing a photoshoot.
Since photography is very restricted in the country, all people, including expats, are asked to request approval first before doing a photoshoot. Let's say you want to organize a photoshoot in popular spots like the Sheikh Zayed Mosque or Dubai Mall. Before you do that, you need to talk to the authorities assigned to the place for your photoshoot to happen. They need to approve your request for a professional shoot first.
Apart from photoshoots, don't forget that taking pictures in common public places such as beaches, culture places, bridges, and free zone areas is restricted as well. When you are at the airport, you will be requested to not use your smartphones or cameras to take pictures because this is one protocol to ensure that the passengers and employees of the Civil Aviation Authority are safe from anything related to photos. If you are planning to do professional photoshoots in these sites, you also need to obtain special permission.
4. Sharing photos without consent is a crime.
Distributing pictures should come with consent. Without permission, it is considered a crime in the UAE. Article 43 of the UAE Copyright Law states the photographer has no right to distribute, exhibit, or publish an original photo or its copies without the permission of the person or people in the photo. This is a violation that can be charged with fines and 6 months to 1 year of imprisonment. If you don't want to experience this hassle, you might want to stop sharing pictures of other people, even on social media!
What are the charges when you violate public photography laws?
Now that you are aware of the restrictions and prohibition, you might be wondering how much are the fines in case you violate the law. For those who will take unapproved photos of semi-government buildings internally or externally, you will be fined AED 8,000 – AED 13,000 for a half day and AED 15,000 – AED 25,000 for a day. For photos of government buildings with unapproved photos, you will be charged with AED 25,000 for a day.
Are there exceptions to the law?
There are a couple of exceptions to public photography law. If the photos are taken during a public event, those photos are shareable. If the person in the photo is a popular personality, the pictures can be shared as well. Lastly, if the authorities permitted the publication for the public interest, there is no harm in sharing the photos.
Tips to Avoid Violating The Law
It's pretty easy to avoid violating the law. The one major thing that's needed is consent. If you get consent first, you will be saved from paying fines and getting imprisoned in case the authorities caught you taking pictures of someone. If you are planning to take pictures of people, talk to them first. If they decline, don't insist.
Although the popular cities in the UAE are worthy to take pictures of, you don't really need cameras to capture the moment. You can spend your days roaming around the cities without taking pictures. You can enjoy being a tourist without a camera. If you don't want to violate any laws, enjoy the moment with your eyes instead of wasting your time to take photos.
Final Thoughts
The UAE law is simple to understand. You don't have to be smart or possess a high IQ in order to comprehend what the government wants you to follow. In this country, there are certain things that remain under strict restrictions, including photography. If you want to make your life easier as an expat, you need to follow what the law is saying or else, you will spend your money on fines and your time in jail. Share this information to raise awareness!