If you have come from a country where there is freedom of expression, and you can freely post your thoughts and opinions online and on social media, you have to be very careful and learn to think before you post when you move to the UAE. There are certain social media rules that you need to follow if you want a stable and peaceful stay in the country. No matter what city you are in right now, Abu Dhabi, Dubai, or other emirates, you need to keep the rules in mind unless you want the authorities to catch you, fine you, and deport you.
READ: 17 Tips When Visiting UAE For The First Time
Social Media is a great network. It is best used for communication, posting, and connecting with other people. While browsing the internet, you will may see a lot of bashing posts and hatred comments towards many things such as religion and the government. However in the UAE, such posts and comments are not allowed.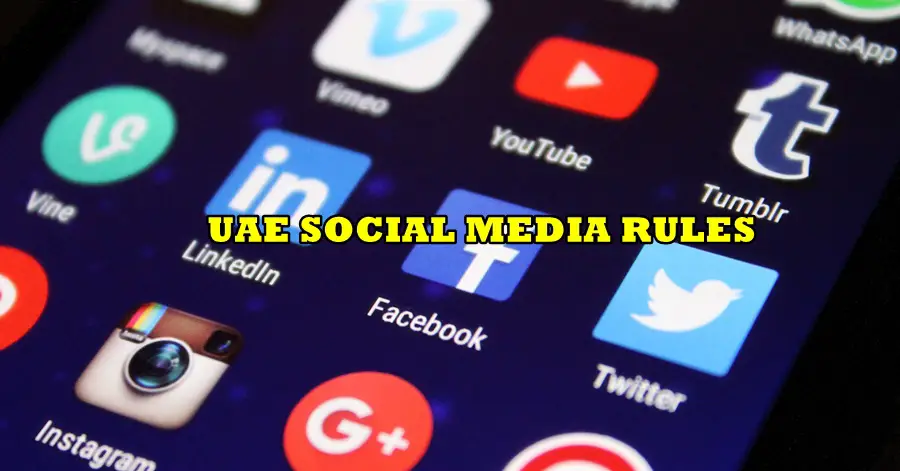 What are the social media rules in the UAE?
As part of the movement of the UAE's government to avoid abuse on the internet for locals and expats, they established major social media rules that everyone should comply with. If you are curious about these rules, we are going to talk about them in this post.
The following social media rules we are about to tell you are the major ones among all other regulations. In order to avoid getting punished, you must avoid them at all costs. Here are the social media rules to follow.
You should always observe respect when it comes to the privacy of people. This is another social media rule in the UAE. The privacy of people is very important even if there are ways you can access the information of people on the internet. If you share or post the private details of an individual or a company, you will be faced with imprisonment and there's a likelihood that you will need to pay AED 250,000 to AED 1,500,000 for violating this rule. Do you have enough money to pay for the fine? If none, don't ever try to disobey this rule!
If you are fond of reading gossips or rumors, keep that to yourself. You wouldn't want to pay a fine of AED 250,000 or face serious imprisonment of up to 6 months because of fake news. In the UAE, this is a heavy offense so as long as you can avoid rumor spreading, don't do it online!
The use of specific online apps and platforms is not allowed.
The government of the UAE has banned the use of Skype and Facetime. Any voice over protocol application like those apps will not be allowed by the government. If a person will be caught violating this law, he/she can face a jail time of up to 1 year and pay a fine of AED 250,000. You can use Etisalat if you want a legal way to make a call or video.
No sharing of pictures of other people without their consent.
Are you trying to capture a picture of a person or a place in the UAE? You need to be careful as there are actions that can be subject to punishments. In this country, you are not allowed to take pictures of people without their permission. If you get caught, you will pay up to AED 150,000 for the fine and may face imprisonment of more than 6 months. Keep your smartphones and cameras off so you won't need to talk to a police officer.
Respect the Islamic values and morals.
There is no way you can post anything that violates Islamic values and morals on the internet. This includes pornography, nudity, and offensive languages. If you will be caught violating this rule through your social media posts, you should prepare yourself to pay a fine of up to AED 500,000 or receive jail time unexpectedly. Always respect the Islamic values and morals even if you are not a UAE local. As an expat, you have to show respect by not posting any bad image on your social media account.
Online prostitution is not allowed.
Whether it's online or offline, prostitution and nudity are not allowed in the UAE. These are against the values and morals of Islam. In terms of using social media, you should not be involved in any case of online prostitution. If you get caught, you will be receiving a heavy cyber offense. You will face temporary imprisonment and you will have to pay a fine between AED 250,000 and AED 1,000,000. Those figures are big! Avoid online prostitution at all costs.
If you have families and relatives here in the UAE, they have the right to know the social media rules in the country. You can help educate them by sharing this post. As an expat working there, always be observe how you use your social media accounts.
If you think something is not appropriate with your post or with the post you are about to share, stop the idea of sharing. You can spend your time doing other legal things like going to the official website of the UAE government to read the labor laws you can use in your employment. There is a better way to spend your time than browsing your social media.