Applicants who are planning to work in the UAE need to make sure that they are prepared, not only to leave their families in their home country but when entering the UAE too. Since this country is very strict when it comes to permits and visas, there is a tendency that you might get into unforeseen incidents so make sure you are aware of your rights and responsibilities as well as things to prepare you to work in the country.
Also Read: 17 Tips When Visiting UAE For The First Time
The rules and regulations are all set and published on the official website of the UAE so if you are curious, don't hesitate to go to their website for more information.
It's your responsibility to be aware of what's going to welcome you in the UAE. Whether you are looking forward to a short stay or you want to be a resident of the UAE after some time of working, the first step you need to take is to educate yourself.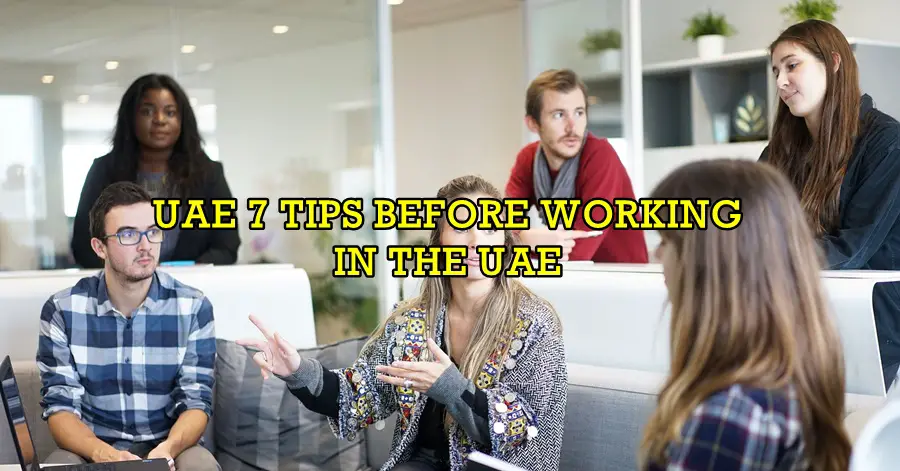 7 Top Tips Before Working in the UAE
In this article, we are going to share with you the top 7 things you must prepare before working in the UAE. If you follow these tips, you will have a peaceful life in the country as an expat. So, here's what you need to know.
1. Have your passports and visas ready.
Before you fly to UAE, you have to make sure that your passport and visas needed are ready. The first thing you need to check is the validity of your documents. Your passport and visa should have at least six months of validity.
You should note that as an expat, you cannot work on a visit or tourist visa. You need something more solid than that like a residency permit and a legitimate work visa for you to be able to live and work in the country legally. You are not allowed to work first before you obtain the required documents because these are deemed illegal in the UAE. You will face imprisonment, pay fines, and worst case, you will get deported. Both you and your employer will face the consequences.
2. Obtain a certificate of good conduct.
Pursuant to Ministerial Resolution 8/1 of 2017, expats and domestic workers who are planning to work in the country were required to acquire a certificate of good conduct from their home countries. It should reflect the past 5 years of their stay and this should not include a criminal record. But, as of April 2018, the certificate of good conduct is no longer needed.
3. Undergo health screening.
If you are an expat planning to work in the UAE, you have to undergo medical tests at the approved government health centers in the country. Applicants will have to take the tests for any communicable disease or condition such as HIV and tuberculosis. Those expats who are HIV positive or with tuberculosis will be deported immediately by the authorities of the country. So, if you think that you will test positive in any of the said diseases, take the test in your home country before you enter the UAE.
It's also according to Cabinet Resolution in 2016 that all resident expats who will renew their residence visas need to undergo tuberculosis screening before they can be given a renewed visa. Expats who will test positive for TB or drug-resistant TB will be given a conditional fitness certificate and a residence visa that is valued only for a year. These expats will undergo treatment in the country.
4. Get your certification attestation.
Your bachelor or degree certificates should be attested and certified by the UAE Embassy, consulate, or your country's Ministry of Foreign Affairs. There are also jobs that require the certificates to be equalized by the Ministry of Education- Higher Education Affairs of the UAE.
5. Take additional tests.
If you are working in the UAE as a physician, lab technician, or other medical professions, you need to take additional tests from the Ministry of Health and Prevention so that you can practice your professions in the UAE. Even though you have licenses from your home country, you won't be able to use it in the UAE without taking additional exams.
6. You can't work in the UAE if you belong to restricted professions.
There are some professions in the UAE that are restricted to locals only. If you are a licensed lawyer, you can't practice your profession in the country.
7. Know your rights and duties.
You should know your rights and duties by reading the UAE Labour Law. We are also regularly updating this blog so we can help you find out the latest about the labour laws in the country.
It's very important that you take note of our tips before you work as an expat here in the UAE. There is a lot of trouble if you will not take extra precautions. Yes, there is plenty of information you have the read and learn as you move into a different country. But, take that as an opportunity to know more about the UAE and its Emirates. For sure, you will be able to learn a lot from your experience.