If you are looking for a job in the UAE, there are legit websites provided by the government. You don't have to go online or on Facebook to search for job offerings because you can directly go to the official website of the UAE to learn more about the portals where you can look for legitimate jobs. In this article, we summed up everything you need to know when looking for work here in the country.
Also Read: 15 Tips to Avoid UAE Labour and Visa Fraud
Scams and fraud continue to increase online and they include recruiters who will try to lure you. Online fake recruiters will get into you through fake websites and emails. So, if you want to avoid them, you will avoid suspicious websites posting jobs that are too good to be true. If you want to work in the UAE and eventually become a resident, you will find a real recruiter online. Or, you will directly head to the portal of the UAE to find the latest news about the job postings and available positions. There's no need to waste your time searching the internet since the government of the UAE has helped you identify the right portals for your job needs. Here's your guide to finding a legitimate job in the country.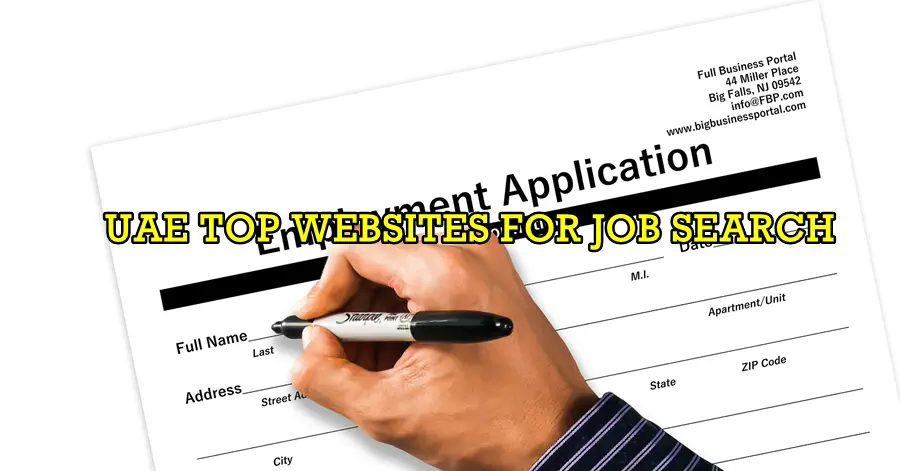 Best Job Portals in the UAE to Look for a Job
Government Job Portals
Private Job Portals
Note that you can register on job portals and set up your account and profile for free. Some of the job portals will offer you to pay a premium so you can access other portal services and it's fine. After your successful registration, you should keep on looking for job vacancies and open positions. Remember that after you get a job from one of the portals above, there is no need to pay for a commission to the portal, recruiter, or employer.
Emirates Job Bank (EJB)
This is a newly opened portal by the government of the UAE and is only available for UAE nationals who want to apply in government and private sector jobs. This was launched in November 2019 and the first phase of its introduction included 160 companies from the government, semi-government, public shareholders, federal and local organizations, and national banks that were given the chance to post their job opportunities on the portal. The second phase will happen in the second quarter of 2020 and will involve all the government, semi-government, and private sectors in the country.
When using the EJB portal, companies need to justify the reasons for rejecting an applicant. It's a good strategy so that candidates will know what to improve the next time they apply for the same job. The launching of EJB is in line with the Cabinet Resolution 10/1 of 2019 to oblige all public and private sector entities to prioritize local employment in the country.
National Training Platform (aetraining.ae)
Another portal that was launched in December 2019 is the National Training Platform that can be accessed through aetraining.ae. The purpose of the platform is to qualify 18,000 people to get a job in the UAE market in the next three years. This also aims to help them improve their skills in specific sectors including but not limited to real estate, customer service, oil and gas, electrical and mechanical engineering, retail industry, and so on.
The training program under this portal will be done in three to six months and the individuals who will train will get a certificate from the institutes that conducted the program. These institutes are approved by the Ministry of Human Resources and Emiratisation (MoHRE).
The UAE government also aims to prioritize hiring Emiratis under this portal. Those who want to change their career and job seekers can easily register in the portal and apply for the training they want. This portal is launched to Emiratisation and is a part of the 10 strategic resolutions adopted by the UAE Cabinet.
Virtual Labour Market
Did you know that the UAE already has a virtual labor market? This is a new version of an electronic platform launched by the Ministry of Human Resources. This aims to help individuals and job seekers outside the UAE to search for a job in the country. It allows candidates to register their CVs and companies are permitted to post their job vacancies.
This portal works through artificial intelligence, which is the latest technology today. The system can match job seekers and recruiters depending on the skillset posted. This portal helps job seekers to identify the jobs that match their skills and experience. Likewise, recruiters will be able to target their preferred job seekers by creating a page and posting the current job offerings they have. The virtual labour market is a very flexible place for both job seekers and employers.
Other ways to look for a job in the UAE
Online Job Fairs
Aside from the portals stated above, you can also search at online job fairs if you want to land a good job here in the UAE. This is an opportunity for you to look for your preferred companies and organizations and know what they can offer you. The fairs are great for fresh graduates as it assists them to choose the career they want in the future. As a job seeker, you can also expand your network through these online events. You can try eFair, Careers UAE, and National Career Exhibition for your online job fairs.
Classified Ads
Classified ads are now different because of the internet. If you know the traditional classified ads in printed newspapers, you will have an idea on how to use it online. Online publications today such as Khaleej Times, Waseet, and Dubizzle have classified ads sections on their pages to display jobs and let job seekers know that there are job vacancies in the UAE. In this way, you can still get access to the job information and contact details of the recruiter even if you are overseas.
Recruitment Agencies
Recruitment agencies are still a thing. In the UAE, you can still send your CVs to the recruitment agencies licensed and permitted by the government. Once you qualify for a job, they will immediately call you for the interview and job offer. Remember that you don't have to pay for anything when you are applying through recruitment agencies. All the expenses should be paid for by the employer and this should be discussed with you during the initial hiring process. If the recruiter is asking you to pay, that's the time you need to think twice.
Looking for a job in the UAE is easy if you have access to the internet. There is so much flexibility now that there is technology. On top of the information provided above, you can also use a professional social media platform like LinkedIn to showcase your skills and let recruiters know that you are looking for a job outside your home country. Build your profile solidly so you can get more connections on this platform. Don't forget to share this idea with your relatives and friends who are looking for jobs in the UAE too.