The UAE has very strict labour laws, which means that the employees and employers should be aware of their rights and responsibilities. One probable reason why many expats are choosing this country is because of the laws that protect their rights and privileges. Included in the rights is the ability of an expat to file a complaint to the Ministry of Human Resources and Emiratisation.
Also Read: List of MOHRE Service Centres and their Functions
If you are currently working in the country, there is a process that you have to follow in case you want to file a complaint against your employer. Read on to know more about the procedure.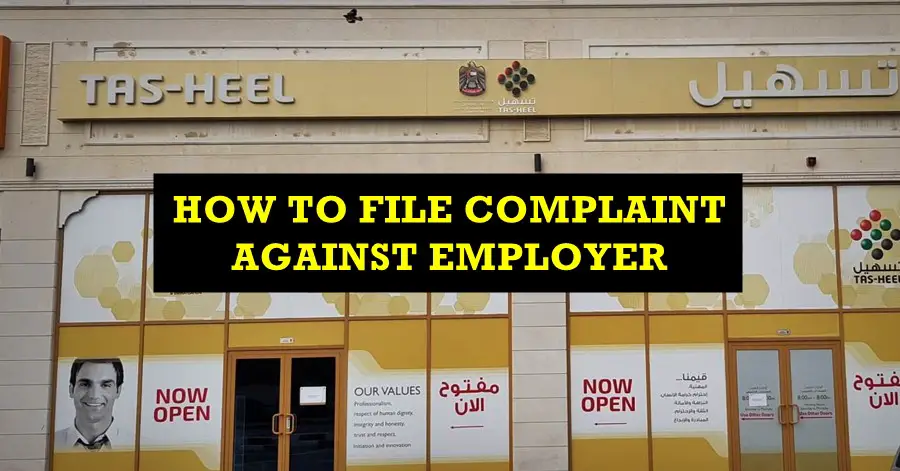 Who is responsible for worker's complaints?
The Ministry of Human Resources and Emiratisation (MoHRE) is responsible for the complaints of the workers. It's like the ministry of labour in your home country. It is also in charge to keep a harmonious relationship between employees and employers with the help of existing labour laws.
With regard to worker's complaints, this ministry is also responsible for settling disputes. Just in case you are experiencing unfair treatment in your workplace, you can directly report it to MoHRE.
When is it okay to file a worker's complaint?
Expats should know the right timing to file a complaint. Unfair treatments don't always mean that you have to do take it outside your workplace. This is the reason why the UAE Labour Law has a clause that signals when should an employee start filing. If you are under any of the circumstances below, it's okay to proceed with filing a worker's complaint:
You are not allowed to take any annual leaves or take a break on public holidays.
Your work environment is not safe or secure when you are working.
You are not allowed to take maternity leave even if you are pregnant.
Your salary is always delayed.
You are asked to work for more than 8-9 hours a day without overtime pay.
You are not given a 30-day grace period after your employer terminated your employment contract.
You are not entitled to a gratuity pay even after meeting all the requirements, including proper resignation or termination of the contract.
Your employer is asking you to replay all the expenses related to your employment such as your employment permit and residence visa.
How to file a worker's complaint?
It's easy and simple to file a complaint in the UAE. After filing, rest assured that your complaint will be looked into by MoHRE. You may also be asked to communicate with your employer to settle the dispute. In order to file the complaint, you have three options.
1. Through MoHRE Call Center
Call the MoHRE at +971 4 607 3555.
A call center representative will attend to your inquiries and will ask you about the complaint.
If the representative can't address your complaint immediately, your concerns will be forwarded to the Department of Complaint and Advise.
Once the department solved the issue, your ticket will be closed.
Your concern will be turned into an official complaint if not solved by the department.
3. Through MoHRE Online Complaint Service
Apart from MoHRE's call center, you can also file a complaint through its online complaint service. Both employees and employers can use this service. Here's what you need to do if you choose this option:
Go to MoHRE's website at https://www.mohre.gov.ae/en/home.aspx
Choose "Register Labour Complaints"
Select "Start Service" which can be seen at the right side of the page
Opt for "Complaint Type"
Input applicant type, unifies number, and work permit number.
Don't forget to add complaint request details.
Submit the information you provided and wait for 10 days to get a response.
3. Through Tasheel Service Centers
MoHRE's call center and online service are ideal for those who don't want to leave their homes while filing a complaint. But, you can also go to Tasheel Service Centers to file against your employer. Here's what you need to remember when you choose this option:
You can go to any Tasheel Service Centers near you to file a complaint.
Bring your documents such as your employment contract and visa.
Tasheel will ask for the company number and work permit number so be sure to bring the documents containing these requirements.
You will be asked to provide your contact details.
After filing a complaint, Tasheel will give you two days to try to settle the dispute.
You will be the ones to decide if you want to continue the complaint after the settlement. The concern will be forwarded to MoHRE and you will be contacted for an appointment with them.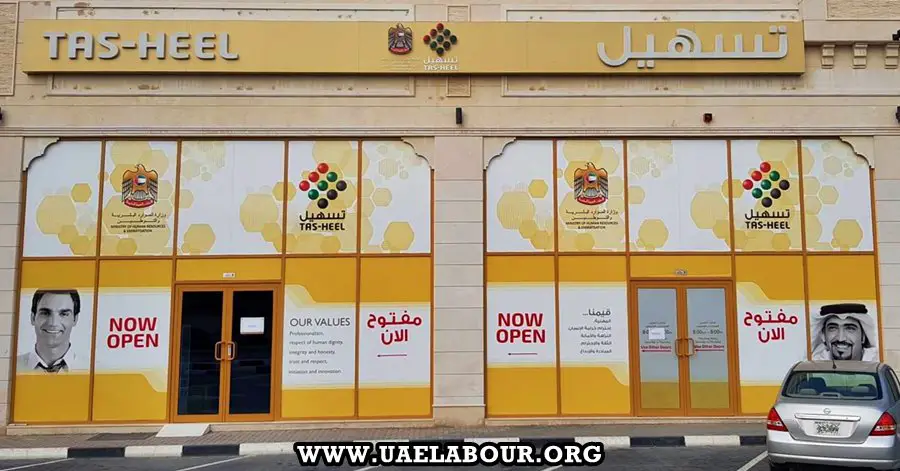 How does MoHRE handle complaints?
After you file a complaint, you will be curious as to how the ministry handles such complaints. First and foremost, it will record the complaint using a complaint number. It's like a reference number that you will also get to track your records in the future. Next, someone from the ministry will handle your complaint. He/she will ask you and your employer to join a call for settlement. Yes, the settlement is usually done over the phone. If the dispute is resolved, MoHRE will close the complaint number but if you choose to pursue the case, you will receive an SMS to visit the headquarters of the ministry for a discussion of the case.
The person who is responsible for your complaint will investigate the case and will encourage you and the other party to settle instead. If it doesn't work, the court of jurisdiction will take over the case. The Department of Work Relations will be the one to continue the investigation.
Final Thoughts
You are given three options to complain against your employer. This is really helpful if you and your employer don't come up with a resolution for your issue. It's also proper to talk to MoHRE if you have issues with your employment rather than fighting against your employer blindly. You need someone to support you and MoHRE is there to help. For expats who need help right now, this is the solution you have been seeking for.