Is it legal to live with your partner in the UAE? That's a common question of expats and the answer depends on whether you are married or not. Married couples in the UAE can live under the same roof without prohibitions and restrictions.
UPDATE as of 7th Nov 2020: As per revisions on UAE family and personal laws, authorities have updated policies and rules when it comes to cohabitation/living together, alcohol consumption, inheritance, and other laws. Unmarried couples are now allowed to live together. More details on the new rules here – UAE announces changes in laws and policies
Meanwhile, those couples who are not yet married and living in the same house can face consequences as it is illegal in the country to live together if you are not married yet. To know more about this law, read the rest of this article.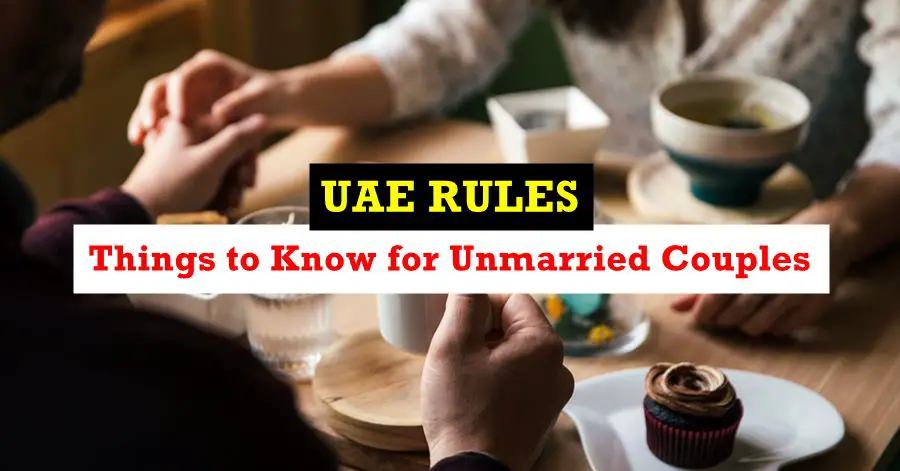 What happens if you get caught living in the same roof and not married?
If you are caught by the authorities, you can get arrested, deported, or imprisoned. That's how strict the law is in terms of living legally.
What are the rules for couples in the UAE?
While it's fine to go out with your partner to have a date outside your apartments, have drinks, eat dinner, practice your religion together, and so on, there are still rules that you need to follow if you don't want to face the consequences in the future. Here are some of the important rules that you need to consider when you are a couple in the UAE.
It is illegal to live with a man or woman if the individual is not your spouse or a member of your family. This is in accordance with the Al Khilwa Al Muharama Clause.
If you are caught having consensual sex in the UAE and you are not married yet, you can get imprisoned or deported. This is in accordance with Article 365 of the UAE Penal Code.
You are not allowed to stay in a private room together with the opposite sex who is not your spouse or a member of your family. This is in accordance with Tajawed Clause. If you are booking a hotel room, don't freak out if you will be asked to show your passport or ID when entering the premise. It is a part of the law.
If someone reports that you are living with your partner outside marriage, expect that police will come to your place and investigate. This is not common but once the authorities know that you are violating the law, they will come to you at any time.
Why are these laws being implemented in the UAE?
Well, there are a lot of factors to consider. The first is to avoid getting pregnant outside marriage. If you are got pregnant in the UAE and the authorities discovered that you are not married yet, you can get deported, be unemployed, or get imprisoned.
Also, the government is preventing extramarital affairs. You wouldn't want to live with someone who has married already even if you don't know anything about it. So, the best way to remain safe and secure is not to live with someone you are not married to.
Final Thoughts
Remember, laws are being implemented in the UAE not to give you limitations but to regulate the behavior of expats here as well. If you want to live legally with your partner, consider getting married first. If this is not an option, you can still enjoy your relationship without living together.