You've probably heard about the Ministry of Human Resource and Emiratisation (MoHRE) in the UAE. If you are an expat in the country, you know that the main function of this organization is to facilitate the proper employment of foreign workers in the country. MoHRE makes sure that the UAE Labour Law is being implemented and followed both by the employee and the employer.
Also Read: WARNING: Fake Jobs and Scams in UAE
Without this organization guiding both parties on what to do, the employment market in the country is going to be a mess. MoHRE serves many functions and it's very essential to take note of that.
MoHRE functions as one major organization whose purpose is to make a well-organized relationship between employees and employers. It's essential to note that MoHRE has different service centers with unique functions.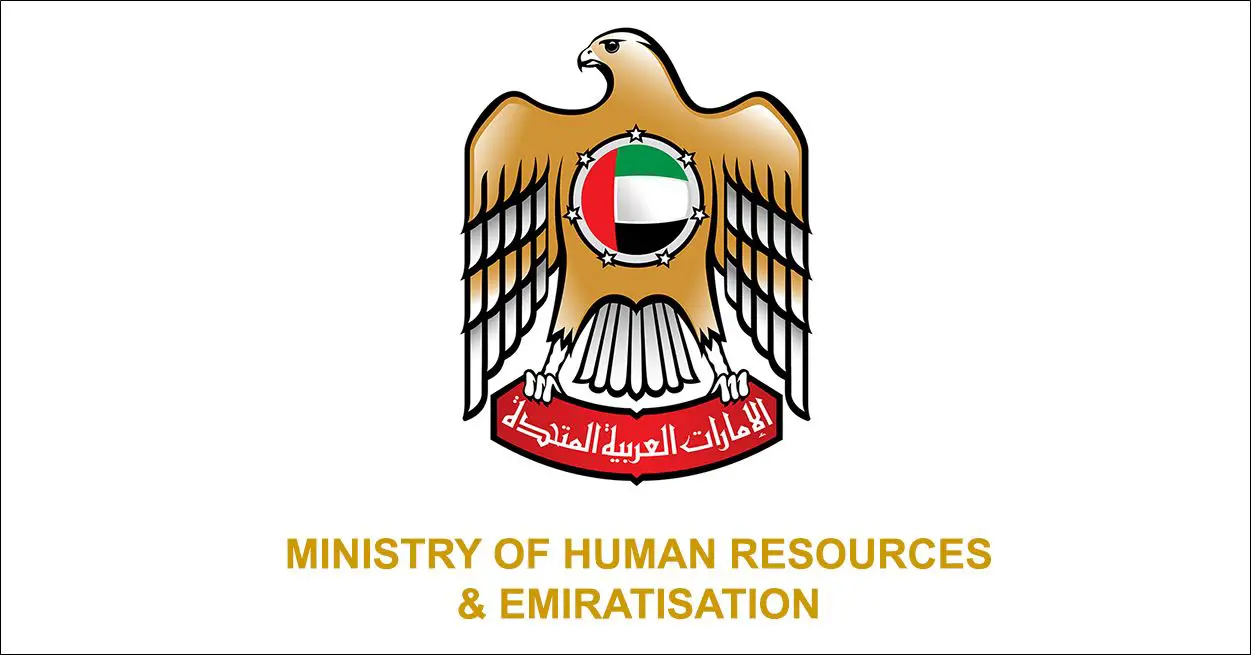 MoHRE Centers and Services they Provide
If you are working in the UAE and you need help with regards to your employment and residency, you can always go to MoHRE's service centers. You can choose where to go depending on the type of help you need. So, if you are not aware of the basic functions of the service centers of the ministry of labour in the UAE, here we share what you need to know.
1. Tas-heel Service Centers
Tas-heel service centers offer a variety of services to employees and workers in the private sector. The aim is to simplify all labour related procedures.
These service centers are open from Saturdays to Thursdays. You can communicate with its staff from 8:00 AM to 8:00 PM.
If you want to learn more about the locations of Tasheel Service Centers, you may go to the official website of MoHRE to check. There is more than one location, you wouldn't get lost if you need someone near you to assist you with your concerns.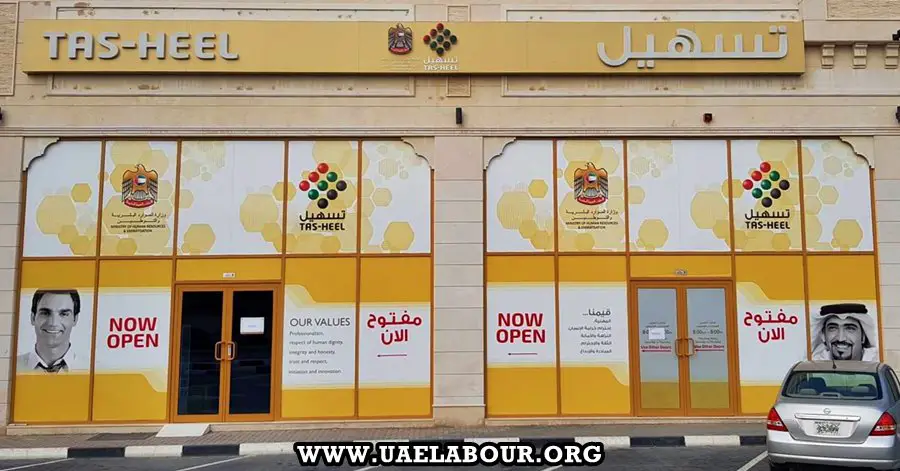 2. Tad-beer Service Centers
Tadbeer has a different functionality. It gives integrated services to recruit and hire domestic workers in the UAE. This center has different locations across the UAE. Whether you are an Emirati or a resident, this service will be happy to serve you as long as you are under the supervision of MoHRE. The services of Tad-beer incorporate the services of MoHRE in relation to the domestic service sector.
There are domestic service packages that you can avail of from Tad-beer service centers. Here are some of the examples of the packages:
Tad-beer service package connected to the recruitment of domestic workers from overseas – this package discusses more the recruitment of domestic workers from other countries by employers here in the UAE and letting them stay within the period stated in the contract.
Tad-beer temporary employment package and sponsorship package – this package talks about domestic workers under the sponsorship of Tad-beer center for a fixed term. Under this package, the workers are permitted to be put under the sponsorship of the employer if all the related parties agree.
Tad-beer temporary employment package – this package explains the domestic worker who is under the sponsorship of Tad-beer center for a fixed contractual period. Under this condition, the worker cannot be transferred to the sponsorship of an employer.
Tad-beer flexible package – this is a package that talks about domestic workers who are under the sponsorship of Tad-beer center and are working on a flexible period only. This is composed of hourly, daily, and weekly workers.
The Tad-beer service center is open from Saturdays to Thursday, 8:00 AM to 8:00 PM. You can find out more if you visit the official website of the UAE.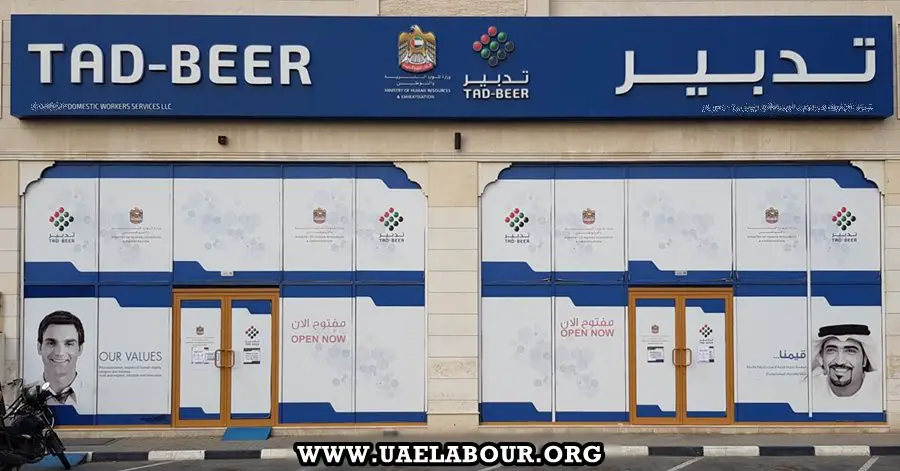 3. Taq-yeem Service Centers
Another service center under the administration of MoHRE is Taq-yeem. This handles the information regarding the facilities and effectiveness of commercial licenses, information about workload estimation, and registration of labour accommodation.
4. Taw-jeeh Service Centers
This is another service center by MoHRE. It assists employees and employers to ensure that there is an awareness of the rights and responsibilities of both parties before their contractual engagement. This is in line with the government's goal to balance the labour market. Some of the services provided by this service center are guidance and awareness of the rights and responsibilities of both employees and employers, services to deliver work permits and contracts, services to issue worker certifications and distribution of materials and pamphlets for both employees and employers.
This center is open from Saturdays to Thursdays, from 8:00 AM to 8:00 PM.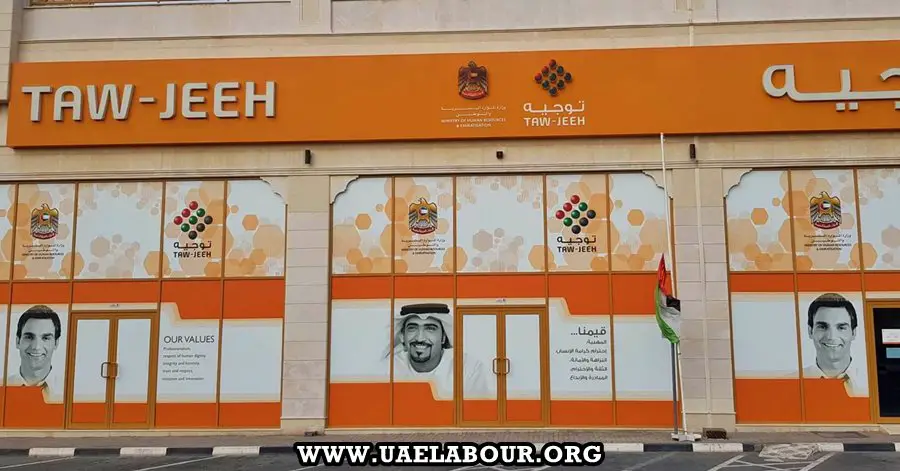 5. Taw-fouq Service Centers
Taw-fouq's function is to assist the complaints of employees and employers regarding their employment. This service helps in fixing the issue in a short period of time. The goal of this center is to reach a polite settlement between the parties involved while giving recommendations after the dispute application. Although Taw-fouq assists in labour disputes, the final decision is not with them.
According to this center, the waiting time after the dispute application is 3-10 minutes. It still depends on how big the issue is and the grounds. But, it won't take 1 hour. You can go to its offices from Saturdays to Thursdays, from 8:00 AM to 8:00 PM.
6. Taw-seel Service Centers
Lastly, MoHRE also supervises Taw-seel, a mobile service center that allows users to set the time and location for the services of MoHRE. Taw-seel offers its services through customized vehicles equipped with all the necessary tools to do the services it offers to employees and employers. There is also a smartphone application that can be downloaded on Android and iTunes in case you want to check how it works.
Taw-seel mobile services are usually around Dubai. They are working from Saturdays to Thursdays, from 8:00 AM to 8:00 PM.
In case you need anything from MoHRE, it's okay to seek the help of the service centers mentioned above. It's much easier to reach and access the service centers than going directly to the office of the ministry of labour.
Plus, you have many different options in terms of location. So if you are in Dubai or Abu Dhabi, for instance, you can find centers near you. Don't forget to share this with your family and friends!