The UAE is modifying the dates of the National Sterilization Program and the new schedule will take place from 8 in the evening to 6 in the morning of the next day. This announcement was made in a UAE media briefing which includes the latest updates in combating the virus. The new schedule will begin from May 20, 2020 – Wednesday.
Also Read: List of Fines for Violators of Preventive Measures
It can be noted that the previous schedule of sterilization hours before Ramadan season was from 8pm to 6am. It was shortened by 2 hours (from 10pm to 6am) during Ramadan. Now, it has been reverted back to the regular working hours.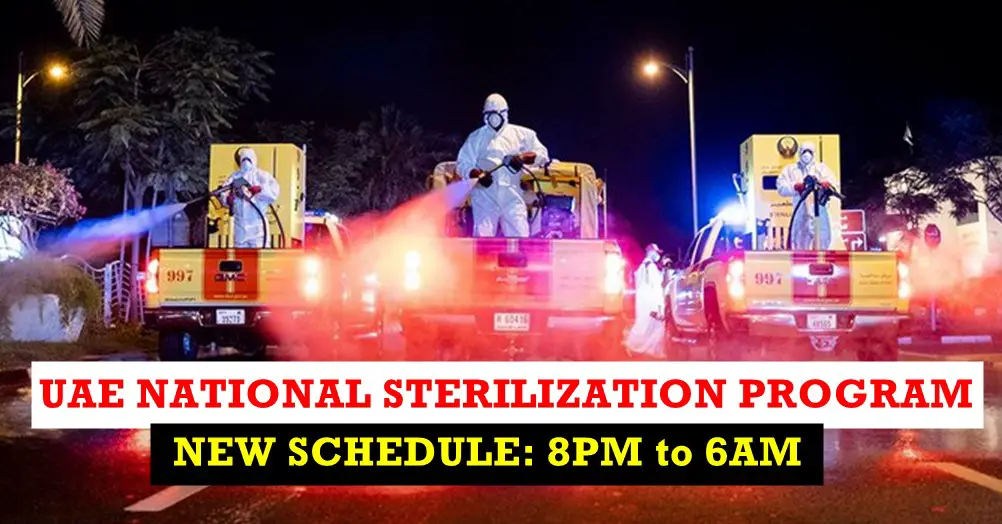 Residents are still advised to stay home while the UAE is currently working on disinfecting the roads and public utilities.
Groceries, supermarkets and pharmacies are allowed to operate for 24 hours.
Meat shops and vegetable markets can sell wares from 6am to 8pm.
Malls and shopping centers are allowed to open from 9am to 7pm as part of the new timings.
Violators of the precautionary measures will face strict fines. The new fine for not wearing face masks in public is now AED 3000 (previously it was AED 1000).
Below is a Twitter post by the UAE Government regarding the latest briefing with this announcement:
Live stream of the #UAE media briefing, on the latest updates of #COVID19 in the country #WamNewshttps://t.co/2xzVwZIM01

— WAM English (@WAMNEWS_ENG) May 18, 2020