To those who are wondering what will happen to UAE visitors and residents who have visas that expired BEFORE March 1, 2020, the UAE recently announced an update that there will be NO overstay visa fines. There will also be a 3 months grace period (starting May 18) for them to leave the UAE.
Read: How to Sponsor your Family in UAE (Residence Visa for Spouse, Children, and Parents)
Many residents were happy that there was an automatic visa extension until end of 2020 for UAE visit visas and residence visas that have expired after March 1. However, many residents and tourists were inquiring about the status for those who have visas that expired and cancelled before the March 1.
This recent announcement is confirmation that the UAE is offering humanitarian acts to help everyone in times of crisis as visa fines are waived.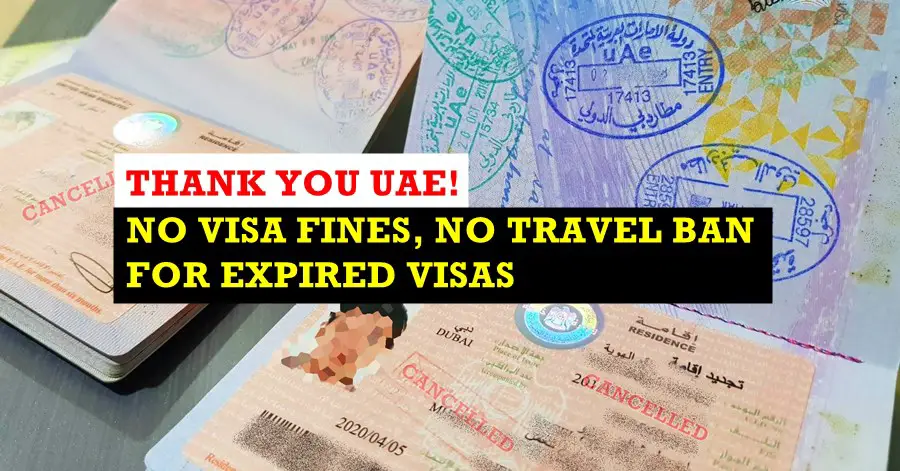 Fines for Expired UAE Visas Waived in Latest Announcecment by Federal Authority for Identity and Citizenship (ICA)
This recent update was shared in the official Twitter post of the UAE Government (@UAEGov). It confirms that Brigadier General Al Kaabi, the spokesperson for the Federal Authority for Identity and Citizenship (ICA), said that this was instructed as per the directives of the  UAE President, His Highness Sheikh Khalifa bin Zayed Al Nahyan, holders of both residency and visit visas that expired in early March are exempted from fines.They have a three-month grace period to depart UAE starting May 18th.
Additionally, for those who have visas fees waived, leave the UAE, and re-enter, there will be NO travel ban. This means that even if you overstayed and did not pay any Fines, you will still be able to come back to the UAE in the future.
Here is the actual post from Brigadier General Al Kaabi:
Brigadier General Al Kaabi: We urge the public to use the smart platform of the Federal Authority for Identity and Citizenship to get the services they need. #UAEGov

— UAEGov (@uaegov) May 13, 2020