The Ministry of Health and Prevention (MOHAP) announced 63 new confirmed cases in the UAE and the total number of infected persons with COVID-19 has risen to 468. This was announced by post from the official Twitter account of @UAEGov on 28th March 2020.
Also Read: How to Prevent Coronavirus, COVID-19
The nationalities of the 63 new cases include:
1 person each from Kyrgyzstan, Somalia, Algeria, Saudi Arabia, Iran, Syria;
2 from each of Afghanistan, Kuwait, and Nepal;
3 from each of Egypt;
4 from Britain;
6 from Pakistan;
8 from UAE, and
30 people from India.
Below is the Tweet from official Twitter account @UAEGov regarding the new cases:
Dr. Al Hosani announced 63 new cases of coronavirus, bringing the total number of cases to 468 in the UAE. The cases are in a stable condition and are undergoing treatment. #UAEGov

— UAEGov (@uaegov) March 28, 2020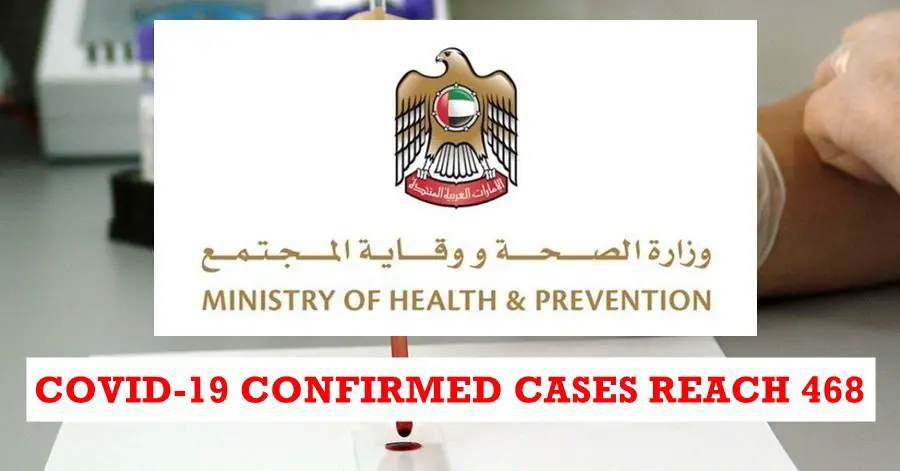 Below is the updated number of cases as per Tweet by MOHAP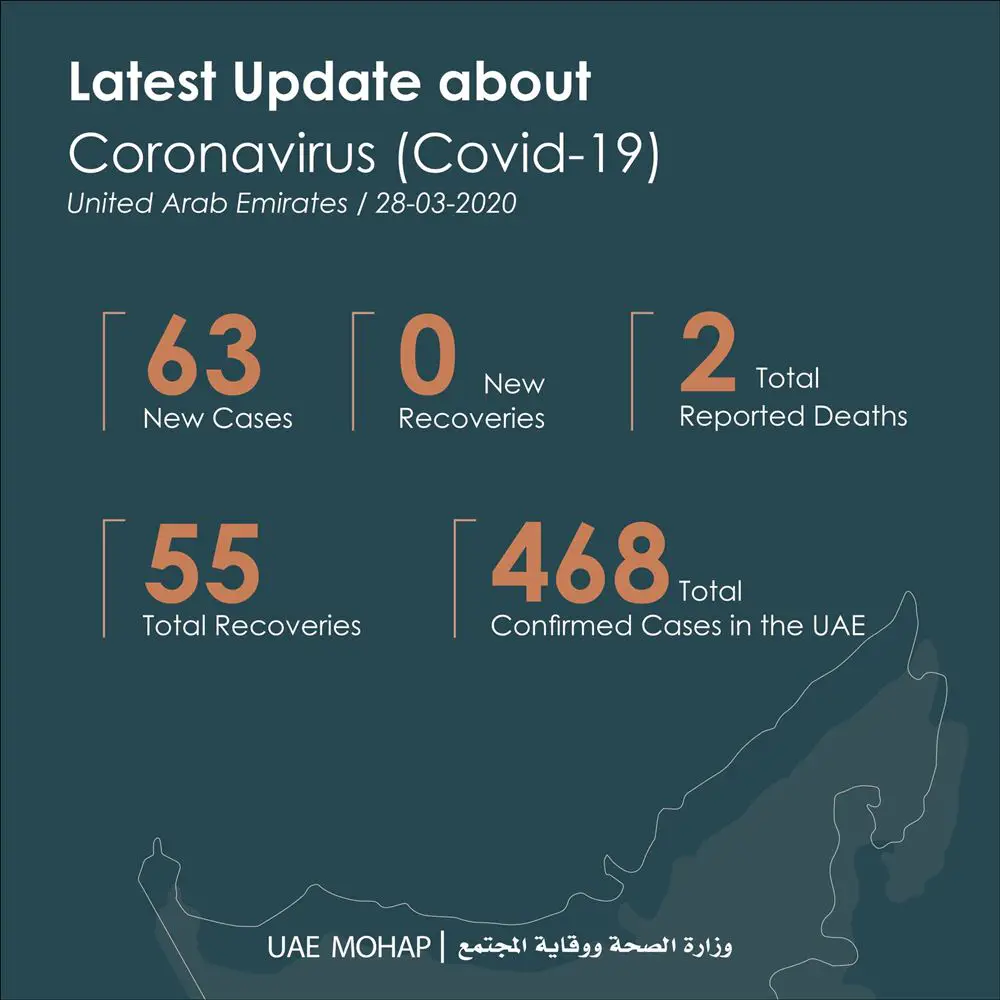 آخر الإحصائيات حول إصابات فيروس كورونا المستجد (كوفيد 19) في الإمارات
.
.
The latest update of Coronavirus (Covid 19) in the UAE#خلك_في_البيت#ملتزمون_يا_وطن#فيروس_كورونا_المستجد #كوفيد19#وزارة_الصحة_ووقاية_المجتمع_الإمارات#stayhome#coronavirus#covid19#mohap_uae pic.twitter.com/tTCfoHHsjj

— وزارة الصحة ووقاية المجتمع الإماراتية – MOHAP UAE (@mohapuae) March 28, 2020
National Disinfection Program Extended
On another note, people are advised to continue staying at home while a national sterilization program takes place where the UAE are cleaning and disinfecting public utilities, Dubai Metro.
The original date was only for 3 days. But the schedule has been extended until April 4 -Saturday (end on April 5 – Sunday at 6am). Everyone is advised to stay home during 8pm to 6am and those who will go out need to get a permit to do so. Please visit: www.move.gov.ae
Below is a Tweet from Dubai Media Office regarding this recent update:
Extension of The National Disinfection Programme until April 5 across the #UAE . #StayHome pic.twitter.com/E2BrgIOVL2

— Dubai Media Office (@DXBMediaOffice) March 28, 2020
We advise everyone to follow the rules of the government as we're all in this together to combat the spread of the virus.