If you are an expat in the country, you've probably heard about Emirates ID (also called UAE ID), which is one of the most important identification documents in the country. For those who are new in the UAE, there is a process to get this document. Even expats are qualified and required to acquire this ID if you are residing/working in the UAE.
PLEASE READ: 17 Tips When Visiting UAE For The First Time
Basically, the Emirates ID is your identification that you are living in the UAE. It is quite a powerful national ID card because when you apply for a phone plan, telecom providers will be able to pull up all your details (by inserting the attached chip into their system). The same goes when you apply for residence visas, or process important government documents.
In case you are looking for a quick and useful guide about Emirates ID, you will find out more about the process in this article. Read on to discover why Emirates ID is needed and how you can apply for one.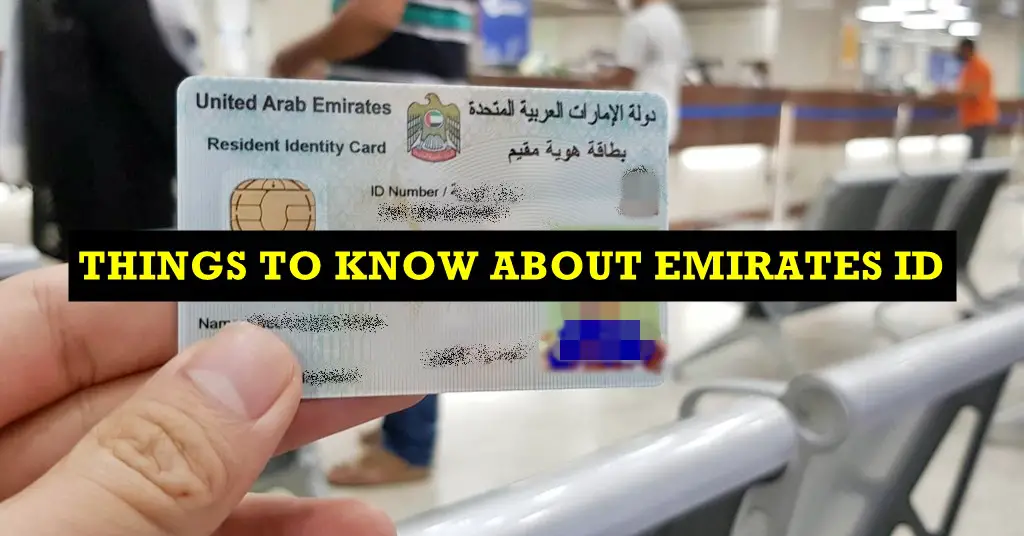 What is an Emirates ID or UAE ID?
The Emirates ID is considered a national ID in the UAE. If other countries have their own centralized identification card, here in the country, it is issued by the Federal Authority of Identity and Citizenship (FAIC). Whether you are a citizen or a resident here, you are required to acquire one and you need to bring it with you at all times. Your Emirates ID will contain a 15-digit number that is assigned to you for the rest of your life, together with your photo and an electronic chip that stores your biometrics and other personal information.
Does Emirates ID expire?
Yes, Emirates ID has its own validity, just like other kinds of IDs and permits in the UAE. If you are an expat, your ID will be valid for 1 to 3 years depending on your residency visa's validity. If you are a UAE National, your ID will be valid for 5 to 10 years. For GCC Nationals, the ID is only valid for 5 years. Of course, you will be given a chance to renew your ID, especially if you are an expat who will stay for more than 3 years in the country.
Why do you need an Emirates ID?
The Emirates ID is essential in many ways:
The first reason why you need it is that it serves as your legal identity card in the UAE.
Next, you need this card so you can easily apply for different public and private services including applying for a bank account, opening an account for internet and phone, paying your loans and DEWA bills, registering your car, paying your fines, and so on.
Third, it's easier to get past the Dubai International Airport terminals if you have the ID since you can automatically use Smart Gates. There are a lot more benefits to discover once you have the ID and you are starting to live in the UAE.
How to apply for Emirates ID for first-time expats?
If this is your first time being in the UAE, you need to apply for Emirates ID once you landed in the country. Here's your ultimate guide.
Who should apply for your Emirates ID?
Since your employer or sponsor might be processing your residence visa and employee permit, you might want to ask him if they can also apply for your Emirates ID. This is an option if you don't want to go through the hassle by yourself. Or, you can separately apply for it by going to different typing centers located in the UAE. There is also an option to apply online if you have dependents who are coming to UAE. Check out the website or the application of FAIC. Note that you can only apply for your dependent's ID once you have your own.
What are the documents to secure to apply for an Emirates ID?
If you are already a resident of the UAE, you just need the original residence or entry permit and your passport.
If you are applying for your newborn child or those who are under 15 years old, you also need to present your original birth certificate, your Emirates ID, a personal photo of the dependent with a white background on top of what's mentioned above.
How much are the fees for applying for an Emirates ID?
After securing the documents needed, you also need to prepare the fees. Note that the fees will depend on several factors. If you are applying online, the costs are cheaper than the typing centers. The validity of your card is considered as well. Here's an updated list of the fees you need to keep in mind:
If you are applying online through the website or app of FAIC:
Valid for 1 year: AED 140
Valid for 2 years: AED 240
Valid for 3 years: AED 340
If you are applying through approved typing centers:
Valid for 1 year: AED 170
Valid for 2 years: AED 270
Valid for 3 years: AED 370
Step by step guide for expats applying for their own Emirates ID or for their dependents
If you will apply for your own Emirates ID or for your dependents, here's a step by step guide:
Secure all the documents needed and prepare the fees before you go to a typing center.
Fill out the application form for a new Emirates ID.
Submit the completed form together with your documents and fees.
When you are applying for your own ID, you will be asked to visit the Preventive Medicine Center to have your biometrics, fingerprints, and photos taken.
An SMS will be sent to you notifying that your application has been received and your visa will be stamped.
The designated authority will process your application and within this time, you will receive an SMS containing the account number that you can use to track the progress of your ID. You can track it by going to the website of FAIC.
Wait for the processing which may take up to 5 working days. You will receive an SMS again stating that your card is ready for pick up. Take note of the post office address in your application as this is where you will need to go to get your new Emirates ID.
The same process will apply if you are getting the IDs of your dependents. The only difference is that you will fill out the application form and pay the fees online.
Final Thoughts
The UAE has simplified this process for expats. The procedure is pretty easy to follow. In case you face challenges during the process, just go back to what's on the list above. You won't get lost if you know the fees and the step by step procedure. If you have friends or relatives in the UAE whom you know is needing an Emirates ID, share this blog with them to help. Your co-expats surely need this guide to successfully apply for their own IDs too.