A recent announcement from the Ministry of Health and Prevention mentions that the total number of infected persons with COVID-19 new coronavirus has risen to 98. This was reported by state-run Emirates News Agency (WAM), where the 12 cases were confirmed on 16th March, 2020. Another statement said that 3 patients have fully recovered from the virus.
By the numbers, the total number of cases in the UAE is now 98 where 26 have recovered.
Also Read: How to Prevent Coronavirus, COVID-19
The report mentions that the 12 cases are of different nationalities which include the following:
3 Indians
1 South African
1 Australian
1 Chinese
1 Filipino
1 Lebanese
1 British
1 Italian
1 Iranian
1 Emirati
Related Posts: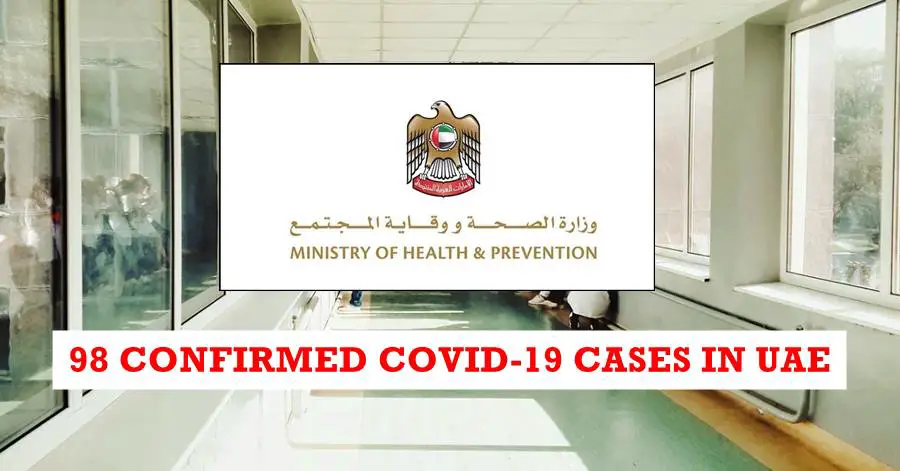 Below is the full statement from MOHAP:
12 new COVID-19 cases in UAE: Ministry of Health and Prevention
The Ministry of Health and Prevention, MoHAP, announced the diagnosis of 12 new coronavirus, COVID-19, cases in the UAE on Sunday.
According to a statement released by the Ministry, the cases came to light after these individuals were tested upon arrival to the country. It is reported that these individuals came into contact with people who had tested positive for the virus and are all now quarantined.
The 12 individuals diagnosed with COVID-19 include a South African, an Australian, a Chinese, a Filipino, a Lebanese, a British, an Italian, an Iranian, an Emirati and three Indians. MoHAP confirmed that the cases were being monitored, and the individuals are currently termed as stable and are receiving all necessary treatment.
The total number of positive COVID-19 cases in the UAE has now reached 98, the MoHAP statement noted.
MoHAP assured the public that medical facilities are equipped with all necessary requirements and supplies to provide adequate care for COVID-19 patients, including airborne infection isolation rooms and measure that meet the World Health Organisation standards.
The Ministry advised members of the general public to follow preventive health measures and review the awareness information available on its website and official channels.
Source: Check out the statement below from the Ministry of Health and Prevention about the 12 additional cases:
رصد 12 حالة إصابة جديدة بفيروس كورونا المستجد "كوفيد-19" تم التعرف عليها من خلال فحص المخالطين القادمين من خارج الدولة لإصابات أعلن عنها مسبقاً وكانوا جميعهم في الحجر الصحي وبعض الحالات مرتبطة بالسفر إلى الخارج#فيروس_كورونا_المستجد #كوفيد19#وزارة_الصحة_ووقاية_المجتمع_الإمارات pic.twitter.com/wCXMzLdZLd

— وزارة الصحة ووقاية المجتمع الإماراتية – MOHAP UAE (@mohapuae) March 15, 2020
Source: Check out the statement below from the Ministry of Health and Prevention about the 3 recovery cases:
شفاء 3 حالات إضافية لمصابين بفيروس كورونا المستجد "كوفيد 19" في الدولة تعود لشخصين من بنغلاديش وشخص من الهند ليرتفع عدد الحالات التي تماثلت للشفاء إلى 26 حالة#فيروس_كورونا_المستجد #كوفيد19#وزارة_الصحة_ووقاية_المجتمع_الإمارات pic.twitter.com/agiHG0FOoZ

— وزارة الصحة ووقاية المجتمع الإماراتية – MOHAP UAE (@mohapuae) March 15, 2020