Dubai is not just a great city for tourism. It's also ideal for people who are looking for a job. If you are someone who plans on getting a job in Dubai, you are on the right track. Dubai and Abu Dhabi are two cities in the UAE that are currently attracting more and more expats because of their booming economies. It's no doubt that a lot of people from all over the world are dreaming to reach these cities for employment. In this article, you will know more about how to get a job in Dubai.
Although Dubai is a rich city and there are a lot of open positions for expats, you will still find it challenging to look for a job if it's your first time. Why? It's because you have a lot of competitors. There are plenty of people who are looking for jobs in Dubai just like you. If you won't use unique strategies to apply for work, you will walk behind other applicants who are great when finding a job. Let's also not forget about scammers who will try to prey on hopefuls but end up fooling them – so watch out for these fraudulent offers!
So, regardless if you are a newbie or an experienced professional, you need to know the steps on how you can land a job in the rich city of Dubai. Here are the tips to get you started.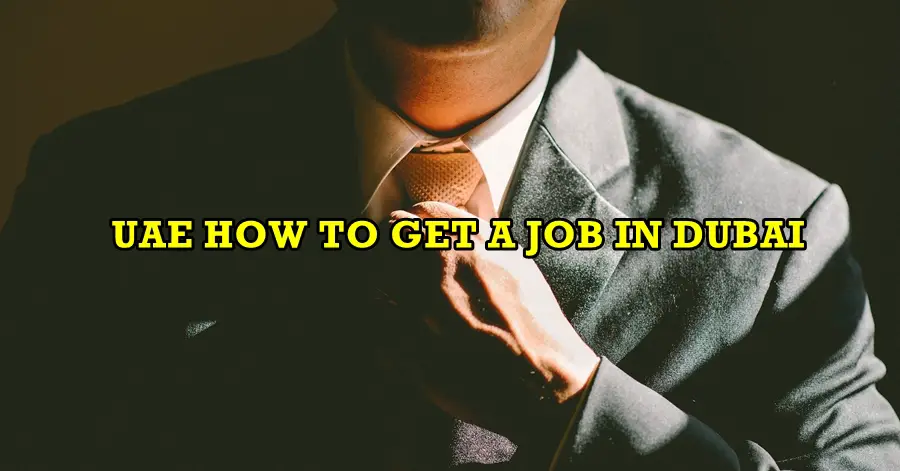 How to Get a Job in Dubai and the UAE
Dubai has open positions for expats. There are different industries accepting new workers and if you are keen to find the right job for you, you will surely discover a good employer who will hire you. However, the challenge is finding the right job since you need a lot of time and effort to look for relevant work. You wouldn't want to get the job not related to your skills, experience, and profession.
There are expats who are using different methods to apply for work such as submitting their resumes online, walking in, and getting referred by their relatives or friends. Regardless of the method you use, you still need to keep in mind that there are ways on how you can become an effective applicant. To get you started, follow these simple tips.
1. Understand the market.
Did you know that the key to becoming an effective applicant is to understand the market first? This is the process of studying and learning about the industry you are eyeing for. You need to learn more about the economy of Dubai, the demographics, the labour laws that exist, the living standards, and the corporate culture. By studying these things, you will become aware of the average salaries and standard living expenses that you can look forward to.
Included in this step is knowing that Dubai is a multilingual place. There are a lot of expats coming from the US, Australia, Asia, and Europe. Expect that English is commonly used by professionals in different industries. So, if you are planning to work in this city, you must learn how to speak and write English fluently.
2, Eye for the booming industries.
If you are a professional and you think you are qualified to be an expat worker in the city, you should target the booming industries for better career opportunities and compensations. Some of the industries that are continuously scaling up are Logistics, Finance, Business Development, Marketing, Engineering, Construction, Sales, IT, Operations, Hospitality, Telecom, and Tourism.
If your industry is one of the mentioned, you are good to go. These industries have more vacant seats than in other sectors. Do your own research and look for an in-demand position in these industries. After that, you can already apply.
3. Don't forget about employment and visa regulations.
It's essential to note that the UAE is very strict when it comes to employment and visa policies. Even if it's just one policy you failed to follow, you can easily get arrested and deported. You need to stay updated about the rules and regulations of employment and visas.
You can do that by following the news released by the Ministry of Human Resources and Emiratisation (MoHRE). Note that any change can happen anytime and it can affect the overall labour market in the country. You will know better if you know the new implementations.
4. Apply for the right visa.
The first thing you should know in terms of visas is that you cannot work with a tourist or visitor visa. If you are planning to work in Dubai, you have to secure a working visa and a residency permit. Regardless if you are a first-time expat or an experienced one, you need to apply for the right visa if you want to avoid facing charges.
If you get hired immediately, your employer should be able to process your visa requirements immediately before you start working.
5. Send your applications online after you have updated your resume.
Now that you know how to understand the Dubai market and visa requirements, it's time to update your resume of CVs. Online is the fastest way you can get a job in Dubai. If you have updated documents to send to your potential employers, they can easily evaluate your application and call you if you pass the initial process.
Some of the parts you need to update in your CV are your contact information and related experience. If you have changed your phone number or your address, don't forget to record it in your resume.
6. Prepare the requirements needed to apply for work.
If you are a foreigner, you are probably worried about the number of requirements you need to prepare to apply for a job, aside from your resume. Well, this is not something to worry about. The documents needed are easy to obtain and they are just the basic requirements you can use when you are in Dubai. Make sure to secure the following if you are applying for a job in Dubai:
Any identification card with your country of residence
Your passport with at least 6 months of validity
Passport-sized pictures that are recent
Academic certificates that are attested by the UAE embassy or consulate
Copies of your parents' identity cards in case of emergencies
Driver's license, although not mandatory
Aside from these basic documents, there are also mandatory files that you need to secure before you apply for work. These are the three mandatory requirements:
Certificate of good conduct – both expats and foreigners must have their certificate of good conduct if they are planning to work in any city in the UAE. This is according to the Ministerial Resolution 8/1 of 2017. This document will come from your home country or the country where you lived for the past five years. This is proof that you don't have any criminal records from the country where you stayed. As of April 2018, this requirement has been removed. You might want to stay updated for new announcements.
Medical Exam – all candidates must undergo medical exams before they can work in Dubai or any city in the UAE. The medical exam consists of testing the applicant for any transferrable disease such as tuberculosis and HIV. If you suspect that you have these communicable diseases, you are required to get tested in your home country before you enter the UAE. You will need to present the medical certificate with the test results when you are applying for a job or when you get a job.
Certificate attestation – if you have a university degree outside the country, you need to get your academic documents attested by the UAE embassy or consulate in your home country. This is an additional requirement if you want to prove your professionalism. The Ministry of Education in the UAE will check the documents. You should avoid forging any academic certificates if you want permanent employment in the country.
7. Develop Other Skills
If you have professional skills already, you might want to explore your other skill sets such as language and driving. If you can speak Arabic, you can add it to your skills so to make you more attractive to your future employers. The same goes for driving skills. If you are applying for a position in the sales industry, you are required to bear a driver's license or driver skills. Apply for certificate courses that will help highlight your passion for learning and always improving yourself.
8. Don't forget your Online Portfolio
Give yourself a fresh start by updating your LinkedIn profile and cleaning your social media account. You need to make sure that they look professional in the eyes of your prospective employers. This is going to be your edge among other applicants.
9. Widen Your Network
Learn to connect. The UAE is full of expats and you might find a job through a friend of a friend or through a former employer. So don't burn bridges and learn to keep professional networking connections. Always aim to expand your network so you will have a good reference in case you want to leave your current job.
10. Apply Online
Go to online classifieds like Dubizzle.com, GulfTalent.com, Linkedin.com, etc. for job opportunities. You will discover a lot of good career openings online. You just have to be keen on finding the right job for you.
After all, professional jobs are mostly posted online nowadays. So learn to go through career pages of company websites, or online classifieds to check the latest job postings. Although walk-in applications are good, you will save a lot of time when you use the internet to send your applications.
11. Hustle!
Don't just apply for one company. In most cases, remember that you have a visit visa/tourist visa that may expire anytime soon. So it's better that you don't relax while searching for jobs. You might end up running out of time with your existing visa and this is an opportunity for employers to take advantage of it and lessen your expected salary as they might think that you're desperate to get any type of job.
12. Negotiate Your Salary
If ever you get past the job screening and final interview, you will normally be given a job offer which states your salary and benefits. However, learn to negotiate especially if you feel that you can provide value to your job and after checking with current job market salary brackets for your position.
Don't accept the first job offer, learn to negotiate your salary to get better pay/benefits. Remember that your salary will depend on your skills and experience. You should learn your worth and be able to negotiate it with your future employers. This is usually the trend here in the UAE. You don't have to accept the first job offer they provide you. If the company really wants you to be their employee, they might adjust the salary and benefits to meet your standard. But if you feel that you are happy with the salary offer, then by all means accept it.
Looking for a job in Dubai might take time but it's all going to be worth it especially if you got the job you are dreaming of. Many people from around the world are hoping to fly to Dubai with a career development goal.
If you have a chance to get your dreams to come true, do not waste it. You have all the means to apply for a job in Dubai. All it takes is perseverance. If you know someone who is planning to apply for work in Dubai soon, don't forget to share this article.