The spread of coronavirus can be controlled and this has been proven by some countries that took the preliminary steps to contain the outbreak. Just recently, the UAE has passed rules and regulations in order to discipline people and prevent them from going outside of their homes if it's not needed. The country is now under quarantine. If expats and locals will be seen violating the rules, they will receive punishments and fines. The longest jail time that you can receive when you violate the law is 5 years. The maximum amount of fine that you will pay is AED 1 Million.
The quarantine and social distancing are not the only means to avoid the spread of COVID-19. You can have your own contribution too and it doesn't have to be money. What you need to do is to follow the tips in this article so you can prevent the spread in your home and outside your community.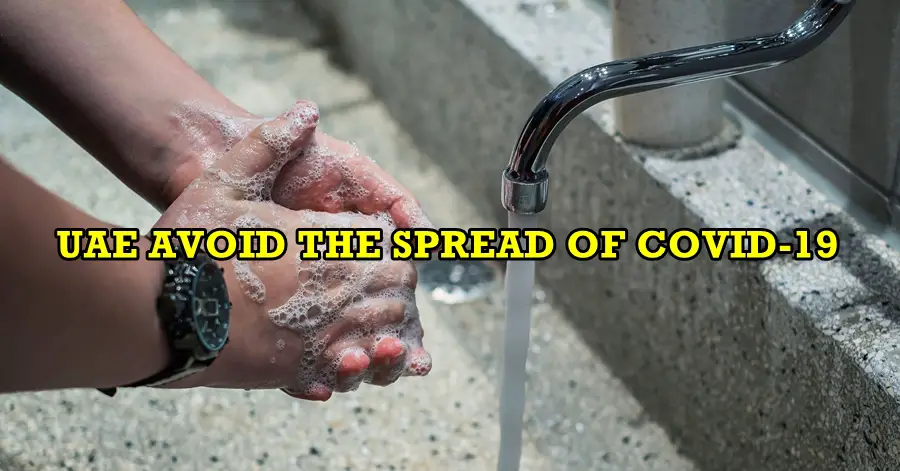 How to Contain the Spread of Coronavirus
Wash your hands regularly.
Washing your hands with water and soap can make a big difference. When you do this, you are washing away the virus and bacteria you got from touching things. The department of health recommends washing hands for at least 20 seconds. When you go out to buy your groceries or when you go home after work, make sure to head straight to your sink and practice proper handwashing before you touch anything in your home.
Do not get in contact with wild animals.
The strains of COVID-19 came from wild animals. Avoid getting in contact with wild animals if it's not necessary. Prevent eating meat if you don't know where did it come from. As much as you can, eat fruits and veggies instead of animals.
Hydrate and drink your vitamins.
Remember that the best way to fight the virus is by having a strong immune system. You need to drink water regularly so you won't be dehydrated. You also need to drink your vitamin C to boost immunity. While you are staying at home, this is the best practice that you can do to stay healthy.
Avoid contact with people who have symptoms of respiratory illness.
If you have family members who are showing symptoms such as colds, fever, dry cough, or respiratory illness, you should avoid getting in contact with them. Even if you are under the same roof, exercise extra precautions such as wearing masks and keeping a distance of 1 meter from the person who has symptoms. Don't forget that the virus is not airborne and it can only be transmitted through droplets. If you have enough distance, you can contain the spread of the virus.
Wear a mask.
Always wear a mask especially if you have symptoms. You can prevent the virus from spreading since the mask serves as your filter when you cough or sneeze. Remember to replace your mask every 8 hours to keep good hygiene. If you are wearing a washable one, replace or wash t daily.
Cover your mouth when sneezing or coughing.
If you run out of stocks of masks, you can cover your mouth when you sneeze or cough as an alternative. Healthcare professionals recommend using your elbow to cover your mouth or your sleeves.
Cook your food properly, especially if it contains meat.
You need to stay healthy by eating healthy. Choose fruits and vegetables over noodles, fast food, and other processed food. Cook your food properly as well especially if it contains meat. Wash them before cooking to wash away the virus and bacteria.
Contact your health facility if you are experiencing severe symptoms.
The UAE has given protocols in terms of reporting patients with possible COVID-19 symptoms. If you think you have those symptoms, don't hesitate to contact a health facility that can assist you with your medical needs. Follow their instructions and do not get in contact with anyone to avoid the spread of the virus. If you can stay at home until your symptoms are healed, do it.
Practice social distancing.
We understand that you need to go out to buy your groceries and other essentials. You can still go out but you should practice social distancing at all times. 1 meter away from a person is enough distance to avoid the spread of the virus. When taking public transportation, comply with the social distancing rules so that the authorities will not arrest or fine you.
Stay at home!
Stay at home as much as you can. Stock food that can last for at least 2 weeks. Cook your own food at home. If your employer allowed you to work at home, spend your quarantine time focusing at work while you are enjoying the comfort of your home. Avoid getting out when it's not necessary. It's better to suffer from strict rules today than die because of the virus.
Final Thoughts
You can contribute a lot to help the country contain the spread of COVID-19. If you will follow the tips we have above, you and your family in the UAE will be saved from the pandemic. Always consider your health status when going outside. Don't risk your life by violating the social distancing and quarantine rules of the UAE. Should you need help, contact the health authorities.