With the recent announcement regarding the opening of malls, markets, and retail establishments, it seems like the city of Dubai is now slowly easing the restrictions due to the coronavirus outbreak. Aside from malls and retail shops, restaurants and cafes in Dubai will also be allowed to operate starting April 24.
Also Read: RTA Dubai Announces Metro and Buses to Resume Operations on Sunday, April 26
This decision was made together with other announcements by the Supreme Committee of Crisis and Disaster Management. This is in line with the goal of the government to partially ease the restrictions in the city. Read on to learn more about the limitation.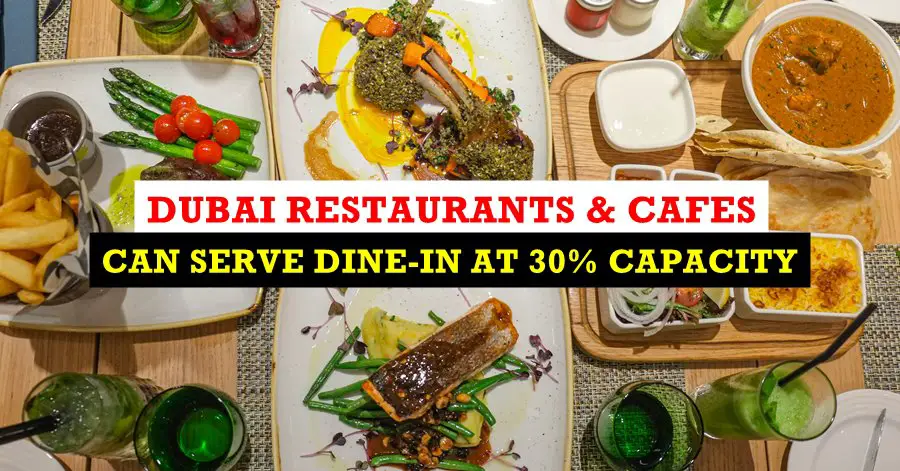 What are the limitations when going to restaurants and cafes?
Food and beverage outlets inside malls must reduce seating capacity. Seating density should be maintained at 4 sqm per individual and tables and seats should be placed two meters apart from each other for all customers. All outlets should follow stringent guidelines for sterilization of facilities.
Restaurants outside malls can serve food and beverage and can receive customers but must reduce seating capacity to 30% and place seats and tables two merters apart from each other for all customers. They also must follow stringent guidelines for sterilization and should not offer open buffet or shisha.
Here are the limitations that you need to follow when going to restaurants and cafes in Dubai.
Only 30% of the capacity of restaurants and cafes in Dubai will be allowed.
Restaurants and cafes will now be accepting dine-in customers.
Social distancing should still be observed. A distance of 2 meters is required to be maintained between customers and workers.
Everyone in these establishments should wear masks all the time.
Restaurants and cafes are not allowed to serve shishas and buffet.
Dine-in customers should only equal to the 30% capacity of the establishment.
Cutleries are only permitted to use once during dine-in.
The opening and closing hours of food delivery services will be from 10:00 PM to 6:00 AM.
Final Thoughts
Expats who are not used to cooking can now have the chance to go out and avail of their favorite cuisines. And although it's allowed, the restrictions must still be observed. When going out, make sure that you have your choice of food already. Avoid spending too much time inside the restaurant when you are dining in. As much as you can, buy food and drinks for takeout and spend your time inside your home.