If you are traveling to the UAE, there are prohibited and restricted items that you need to be aware of. You can't just enter the country without double-checking your luggage. Note that security in the airports of the UAE is strict. If you will not be careful about bringing band items, you will face troubles the moment you land at the airport. So, whether you are traveling to Dubai, Abu Dhabi, or any emirates in the UAE, you should be able to identify what is prohibited and not. This article will help you identify those items.
Also Read: 15 Tips to Avoid UAE Labour and Visa Fraud
Existing and new expats should be able to determine what's prohibited, restricted and permitted in terms of bringing items when moving into the country. If you are planning to work here or you are going to search for jobs, you have to be knowledgeable. You have to what's written in the law so you can avoid facing issues at the airport. The tendency when you miss an important rule is that you will get deported right away. No one wants to experience that! To help you out, here's your ultimate guide to what's prohibited and restricted upon your arrival in the UAE.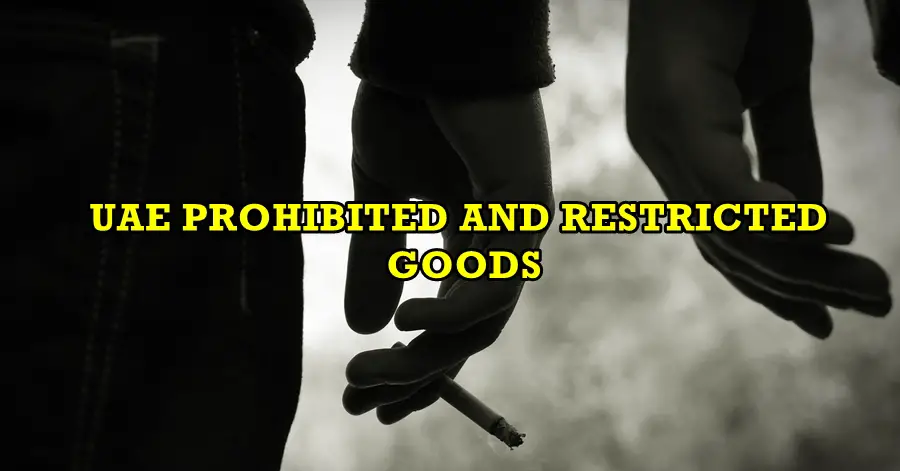 What are the prohibited goods?
According to the website of Dubai, prohibited goods are anything that is imported or exported which is prohibited under the laws of the Common Customs Law or any regulations in the state. Prohibited goods should be avoided at all times. Even if you negotiate with the authorities, you will not be successful. Instead, you will receive consequences for breaking the law. As an expat who is looking forward to work in the country, we encourage you to become vigilant and always check your belongings before you leave your home country. Here are some of the prohibited items according to Dubai's official website:
Goods of Israeli origin or those with Israeli flags
Narcotic drugs of all kinds
Gambling devices, tools, and machines.
Live swine.
Nylon fishing nets.
Used, reconditioned, or inlaid tires.
Nuclear and radiation substances
E-cigarettes and electronic hookah.
Items that are against the Islamic faith and public morals.
Paan and betel leaves
Any other goods that are prohibited under the Common Customs Law or any law that is applicable in the UAE.
What are the restricted goods?
Meanwhile, restricted goods are those that are restricted under the provisions of the Common Customs Law or any regulation applicable in the UAE. Unlike prohibited goods, restricted goods can enter the UAE as long as it is approved by the controlling authorities. Here are some of the restricted goods and controlling authorities according to the official website of Dubai:
Ministry of Climate Change and Environment – live animals, insecticides, plants, and fertilizers.
UAE Kimberley Process office – live diamonds.
Ministry of Defense/Armed Forces/Ministry of Interior – ammunition, fireworks, explosives.
Ministry of Health and Prevention – pharmaceutical products, medical and surgical machines and tools.
Dubai Municipality – foodstuffs, cosmetic products, and personal care
Dubai Police – alcoholic beverages
National Media Council – print materials, media products, publications
Telecommunications Regulatory Authority – transmitters and radio equipment
Emirates Authority for Standardization and Metrology – new tires
Federal Authority for Nuclear Regulation – nuclear energy-related products
What are some of the security tips you need to consider?
When traveling to the UAE, bearing in mind the security tips we are about to tell you is very important as you need to be sure whether you are complying with the rules and regulations or not. The authorities have helped in developing these security tips for your own good.
Put your mobile phone, wallet, keys, and watch in your hand baggage. These are considered as loose items.
Watch out for your laptop and put it in a bag that you can easily reach. Remember that you need to place it in a separate security tray during scanning.
Belts with metals and shoes with heels should be put in a security tray as well.
If you are bringing plastic containers, make sure that they are placed in a clear, resealable plastic bag. This can be placed inside your hand baggage.
The liquid containers should not be more than 100ML except for medications, dietary requirements, and baby milk or food.
You should double-check your hand luggage and make sure that there are no prohibited items placed inside.
Follow all the instructions given by the authorities at the airport. Remember that like any other country, there are things you can and can't bring when you enter a new country. You should be able to pass through Dubai Customs if you want to go in. If you will not be able to comply with these rules, you can receive fines and be imprisoned.
Declare your goods when you arrive at the airport to help the authorities assess your belongings.
When traveling to the UAE, you need to consider the lists above—the prohibited items, restricted goods, and security tips. If you are knowledgeable enough, you will avoid all kinds of trouble. You don't actually need to be paranoid even if it's your first time entering the country. If you can bring fewer items, the better. Since you are working in the country and you will be staying there for years, it's better if you can just buy what you need after you have settled down in your accommodation. And in the case of travelers, only bring what you need.