4-wheel cars are not the only popular vehicles in the UAE. If you are an expat residing in of the emirates here, you will find that some of the people here own their own motorcycle bikes. If you love to ride bikes, you need to get your motorcycle license first before you can legally drive one. This is a standard requirement by the UAE law.
Also Read: How to Get a Driver's License in UAE
So, just like owning a car, you will undergo a certain process to apply for a license. Read on to know more about this process.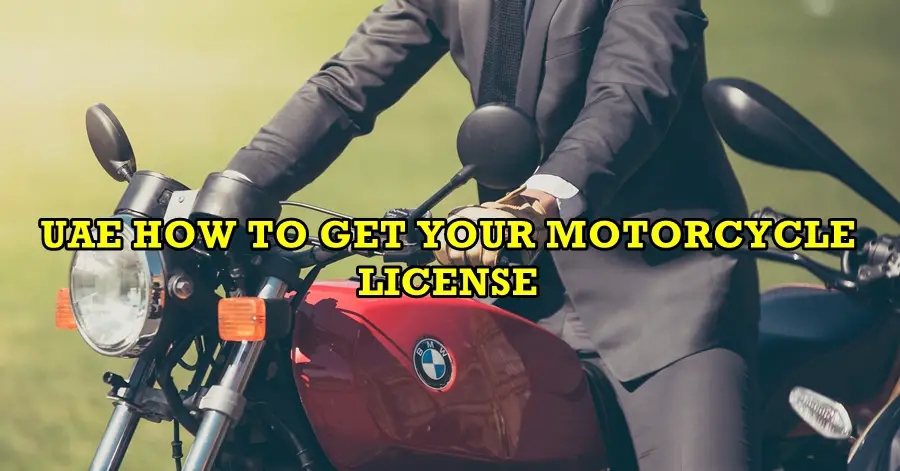 How to get a motorcycle license?
Well, a motorcycle license serves as your permit to drive and bring your motorcycle anywhere you go. Some expats choose to buy a motorcycle instead of a car in order to pass traffic jams easily. This kind of vehicle is convenient if you are going to work during rush hours.
Make sure that you meet all the requirements.
When applying for a motorcycle license, you must meet all the requirements. The Road Traffic Accident or RTA is responsible for the guidelines related to a motorcycle. It releases a motorcycle handbook where all the rules are written and should be complied with motorcycle drivers in the UAE. The first requirement is that you read the handbook and you must be at least 17 years of age.
Now, if you are wondering if you can use your driving license as a motorcycle license, you can't. You still need a separate one to drive in cities. The next requirement would be registering as a beginner if you don't have a bank license. This is for a minimum of 15 hours.
For those who have their existing motorcycle license from your home country, you still need a separate UAE motorcycle license which required a minimum of 8 hours. To apply for this one, you need to secure an affidavit that you possess a valid motorcycle license from the consulate of Dubai.
Note that your motorcycle license is recognized in the UAE if you live in Bahrain, Qatar, Oman, Kuwait, Saudi Arabia, Belgium, Austria, Denmark, Bulgaria, Finland, Denmark, Germany, France, Ireland, Greece, Latvia, Italy, Luxembourg, Lithuania, Norway, Netherlands, Portugal, Poland, Serbia, Romania, Spain, Slovakia, Switzerland, Sweden, the United Kingdom, Turkey, the USA, Canada, Hong Kong, Australia, New Zealand, Japan, Singapore, China, South Africa, and South Korea.
Complete the document needed for the application.
After meeting all of the requirements, the next process is securing the documents needed. Here's what you need to submit and bring during your application:
The original and photocopy of your Emirates ID
2 passport-sized photos
No Objection Certificate from your sponsor. Make sure it is stamped and signed.
A photocopy of your residence visa.
The result of your eye test.
A photocopy of your motorcycle license from your home country if applicable.
Go through the application process.
When you have all the documents needed, you can now go to the driving school you prefer and register for an application. You will be given the chance to open a file in your school.
Note that there will be a theory lecture that will last for 8 hours. It will be followed by a theory test that you need to pass before you proceed to the practical lessons. After attending the practical lessons, there will be an assessment to be conducted by your driving school and you need to pass it as well.
Both of the exams will cover the basic driving rules such as balancing your motorcycle, following the traffic signs, driving with a load, road rules, risk management, and your discipline while on a lane. After the practical assessment, you need to enroll for the test that will be conducted by the RTA. When you pass its exam, that's the only time that you will get your motorcycle license. The RTA will determine the place where you will take the exam. If you fail 5 times, you need to retake classes to enroll for the test again.
Given the process, lessons, and the exam, it will take two months before you can successfully claim your motorcycle license in the UAE.
How much do you need to pay to get your motorcycle license?
There is no fixed amount that you have to pay to get your motorcycle license. However, it will depend on which driving school you are enrolled in. For instance, if you are registered at the Dubai Driving Center, the fees start at AED 3,800. In Emirates Driving Center, you will pay at least AED 4,600 for a gold training or during Friday lessons. In Al Ahli School, the fees start at AED 5,000 from the theory lecture to the RTA test.
Apart from these fees that the driving school will ask you to pay, you also need to allocate up to AED 1,500 to open a file, test permits, insurance, knowledge, and innovation. You also need a clear name before you can apply for a new license if you don't want to pay additional fees.
Do you need to renew your motorcycle license?
Just like your driving license, your motorcycle license is renewable. You can apply for the renewal process through the website or app of the RTA. You can also visit the nearest service center to know more about the process. Or, you can directly go to your driving school to renew your license. During the renewal, you need to obtain a new eye test and pay the applicable fees. If this is done online and you opt for your license to be delivered door-to-door, you will pay an extra AED 25 for the delivery fee.
Final Thoughts
Having your motorcycle license is mandatory if you want to use your motorbike in the UAE. It's equivalent to your driving license so make sure that you follow the steps here for a smooth application. Applying for it may be costly but remember the benefits of driving your own motorbike—easier transportation while skipping the traffic jam!