Many expats in the UAE tend to go out, try to do fun activities, or socialize with fellow expats when they are outside work. It's good to have things to do outside work and achieve work-life balance to keep you sane.
Also Read: 17 Tips When Visiting UAE For The First Time
Now, we know that you are thinking about how you can spend your rest days other than staying at home and sleeping. In this article, we have listed the things that you can do during your day off, holiday, or vacation leave.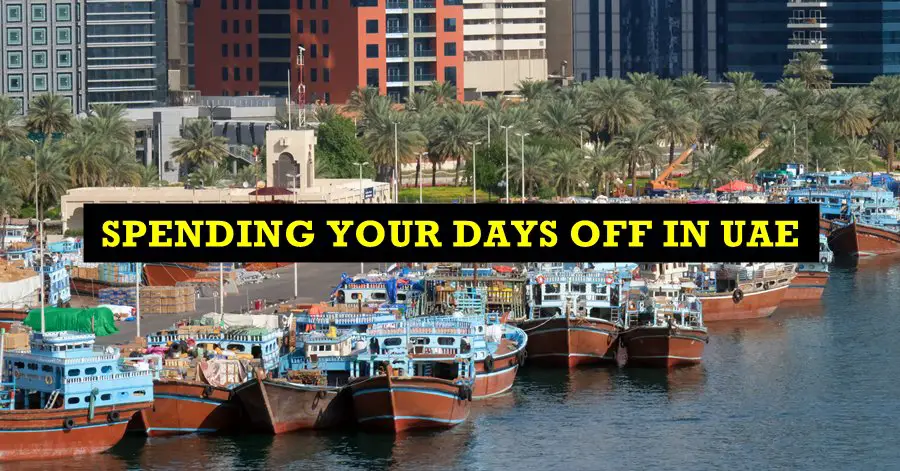 Things to Do in UAE on Your Days Off
Having something to do on your days off is important to maximize your expat life. Whatever your interests are, it's good to always think about enriching your experiences.
1. Take a short vacation.
Who wouldn't want to take a short vacation after long 6 days of work? Every expat in the UAE craves for adventure to relieve stress. It doesn't matter where you reside or what your work is. You have the right to take a vacation, especially if it's your rest day. However, you should plan this ahead of time. Plan where you want to go, for how long, and how much you are willing to spend.
In Dubai and Abu Dhabi, there are resorts and beaches that are worth your visit. Some options are expensive and there are some that you can definitely afford. Ensure that you are choosing the right place depending on how you want your short vacation to happen.
2. Explore the UAE for a day.
If you are only leaving your work for a day, you might want to spend it smartly by exploring the UAE. You can already enjoy as much as you can within a day. There are good places in the country, specifically in Dubai and Abu Dhabi where you can spend your day off. You can go shopping in malls and souks. You can watch movies and dine in popular restaurants. Take the bus and go to other emirates to explore more places. Plan this early and make sure that you are ready to take your day off.
3. Spend the day reading the UAE labor laws.
Staying at home is still an option. There are expats who would rather enjoy the comfort of their homes than go outside and spend lavishly. While you are staying at home, spend the day reading the UAE labor laws. Start with laws that relate to your contract and employment. Don't just read, understand what these laws imply. This is important because you are investing in your knowledge as an expat employee. Soon, you will be needing the information you learned, especially when it's time to leave your employer and look for better job opportunities.
4. Enroll yourself in school.
There are some expats who want to live productively in the UAE. They don't just work here, they also spend time studying to scale up their education. If you want to do the same, enroll yourself in school and spend your rest days attending classes. Expats usually get programs or degrees that will help them achieve the highest degree of education, for instance, a master or diploma class. This is actually a good way to be a productive expat.
5. Look for a part-time job.
If you think you can do more jobs, you can look for part-time work in the UAE. This is legal even if you are already working as a full-time employee. But, your current employer should know about your plans. Tell him ahead of time that you are planning to look and work as a part-time employee. Subsequently, make sure that you know the rules and regulations about part-time jobs. There are specific laws that address the concern of expats who are working as a full-time employee and part-time at the same time.
6. Spend time with your expat friends!
There is no better time to be with your expat friends but during your rest days. Use these days to become sociable. Go out with your friends and enjoy the UAE. Plan your shopping with them, watch movies with them, try out new cafes, and so on. Make sure to catch up with your friends to avoid getting bored while you are at home.
7. Attend seminars and other career development programs.
If you are aiming to get promoted at work, use your day off and rest days to attend seminars and other career development programs. Usually, these programs have equivalent certificates that you can present to your employer. You will get professional credits for taking the time to scale up your career. Here in the UAE, these certificates are honored so you can get higher positions and salaries. This is indeed an efficient, effective, and productive way to spend your day off!
8. Make time to check the validity of your legal documents and apply for renewal.
If you have errands to run, your day off is the perfect time to do it. Check the validity of your legal documents and make sure that they are still active. This includes your employment permit, residence visa, car registration, passport, and other identification documents. If you find any of your documents expiring, apply for renewal already. Use your time smartly by running your errands so you won't have to absent from work when the time comes that you need to renew your papers.
Final Thoughts
A lot of ways to spend your day off wisely exists. You can be a tourist for a short period of time. You can spend your days studying for career growth. You can be a responsible employee by renewing your expired documents. It's actually up to you how you want to spend your rest days. Don't forget that most of the time, you will get fixed weekends off. For some, it's ideal so that they would know the exact date of their day off. In the UAE, Fridays are weekends. Prepare yourself to go out on these days,