The UAE is a big country, no doubt about that. The 7 emirates are worth-visiting, especially the three major cities Abu Dhabi, Dubai, and Sharjah. The majority of the population here is composed of expats, which means that each time you walk down the street of the emirates, take the train, walk around the city, and so on, you will see different nationalities roaming around.
Also Read: Top 10 Reasons Why Expats Want To Work in the UAE
If you are currently residing and living in the UAE, you are probably thinking about exploring the country one of these days. To do that, you need to bring some information that will help you explore the country in a smart way. Read on to know more about it!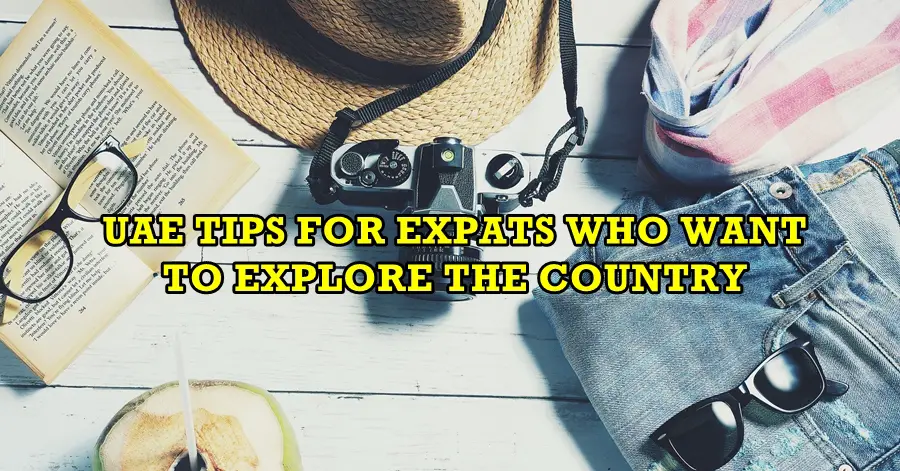 Tips For Expats Who Want To Explore The UAE
Exploring the UAE may sound easy. However, you need to keep in mind a few things so you can enjoy the best this country can offer. Here are some of our best tips if you want to explore this rich country.
Plan your trip ahead of time.
An expat is supposed to work 5-6 days a week in the UAE. If you have an agreement with your employee regarding additional vacation days for a month, it's better. You can use your free days or free time to roam around the city where you are residing. To become an effective tourist, plan your trip ahead of time. This is to make sure that when you are exploring the country, you are not compromising your work schedule.
Set your budget for your journey.
Exploring the UAE on a budget is possible. You don't need to earn a high salary so you can explore popular cities. All you have to do is set a budget for your journey and spend according to your limit. Don't worry, there is a lot of affordable stuff in the country. Your money will be spent wisely if you have a plan on how to spend it.
List down the places you want to go to.
To maximize your time, list down the places where you want to go. If you are residing in Dubai, there are a lot of good destinations in this business hub. There are plenty of malls, souks, parks, man-made destinations, and more. If you are more interested in doing physical activities, don't forget to list them down as well so you would have a lot of options to choose from.
Start with nearby destinations.
Starting with destinations near your place helps in maximizing your time and resources too. The good thing about exploring the main city where you are residing is that you don't really have to spend much. You can just take a walk or use public transportation to reach the place in just a couple of minutes to an hour. This is something you can do without stress. It's just like strolling on the streets of Dubai or Abu Dhabi to have a little fun and adventure.
Use public transportation.
Don't forget to experience using public transportation! You can use the bus, train, taxi, or cab. This is very useful for those who want to explore another emirate. Plus, you would only spend a little since public transportation in the country is very affordable. You don't need to worry about going home too since it is very accessible. Just be aware of the schedule of the bus and train if you are not planning to hire a cab during the whole trip.
Be mindful of the laws regarding public places.
When you explore the UAE, there are more enjoyable public places where you can go to. Malls, parks, souks—they are considered as places where there are lots of tourists, locals, and expats. When going to public places, make sure that are aware of the laws. For instance, you can't just smoke or litter in these places. You will be fined if the authorities will catch you violating the general rule.
Try different cuisines, especially the local ones!
This is the best time for you to learn about why the UAE is famous for tourists around the world. If you are an expat who is used to your local cuisine, you might want to try out the local food in the country. Try different cuisines. Become a food enthusiast. Try local restaurants and if you are traveling on a budget, do it one at a time. Of course, you can also go to restaurants serving international cuisines.
Buy souvenirs as a remembrance of your trip.
Each time you go on a trip, try to bring home something that will serve as a remembrance of your trip. Some expats buy keychains, refrigerator magnets, and so on. You will find goodies in malls and souks. Buy local products to make it more realistic.
Be as sociable as you can.
Exploring the UAE is one way you can meet new people, especially expats. You should be as sociable as you can if you want to earn new friends. This is especially applicable to expats who are living alone in the country. You need a local support group and by being sociable while you travel, it's possible to find a group of expats who can be your support.
Respect locals and other tourists.
Finally, don't forget to consider other people while you are exploring the country. Be respectful to locals and their culture. Show your politeness to other tourists too. Your behavior matters in the UAE and if you want a smooth tourist experience, follow the norm.
Final Thoughts
You should not just limit yourself to become an expat employee in the UAE. The country is wide enough for you to explore. Whether you are living in Dubai, Abu Dhabi, and Sharjah, you can always go to other emirates to experience a new environment. Just make sure that you bring your identification cards and necessary documents in case the authorities ask for them. Exploring the UAE is fine, enjoy your time here as an expat!