Good news for Filipinos who are currently OFWs in the UAE, you can now apply for Coronavirus cash assistance. According to the official website of the Philippine Overseas Labor Office in Dubai and Northern Emirates (POLO Dubai), the DOLE Department has released Order No. 212 Series of 2020 stating the guidelines on the provision of financial assistance for displaced land-based and sea-based Filipino workers due to the coronavirus disease (COVID-19) "DOLE-AKAP for OFWs."
This advisory was issued on April 08, 2020 and POLO Dubai is now accepting applications for the one-time financial assistance of AED 730 or equivalent to Php 10,000 for displaced OFWs.
Take note that this includes "no work no pay" employees. Meaning, even if Filipinos are still employed, but are currently not reporting to work, are also included.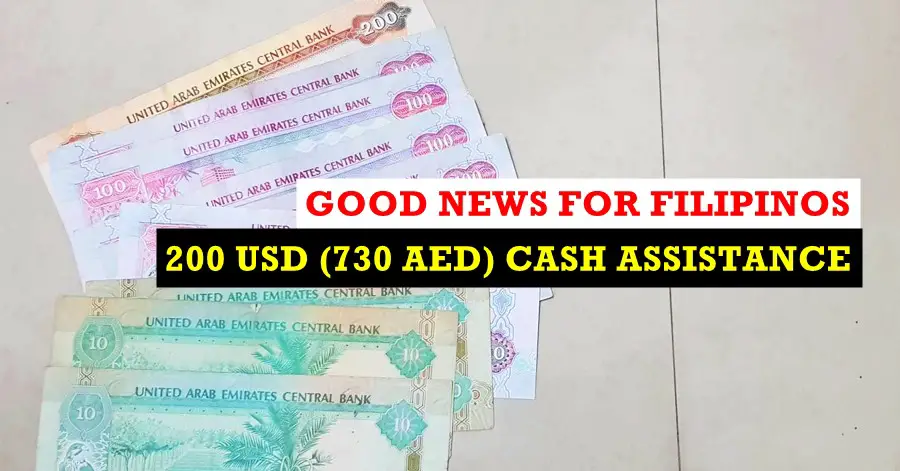 Who are qualified for cash assistance?
In general, the Filipinos who are qualified to claim the cash aid are Filipinos who are affected with no salary due to the pandemic. Per the official website of POLO Dubai, those who will meet the following conditions will qualify for the OFW cash assistance:
Workers should be one of the following:
Regular/Documented OFWs as defined in the 2016 Revised POEA Rules and Regulations, as follows:

Those who possess valid passports and appropriate visas or permits to stay and work in the receiving country; and
Those whose contracts of employment have been processed by the POEA or POLO; or

Qualified undocumented OFWs, as follows:

Those who were originally regular or documented workers but for some reason or cause have lost their regular or documented status.
Those who are not registered with the POEA or whose contracts were not possessed by POEA or the POLO, but have undertaken actions to regularize their contracts or status; or
Those who are not registered with the POEA or whose contracts were not processed by the POEA or POLO, but are active OWWA members at the time of availment.
Workers who have experienced job displacement due to the receiving country's imposition of lockdown or community quarantine or having infected by the disease; and
Must not receive any financial support/assistance from the receiving countries/employers. 
How to apply for the cash assistance program?
To apply for the cash assistance program, follow the instructions below:
Fill up the application form for Special Cash Assistance, which can be downloaded here (https://drive.google.com/file/d/1EMEmdR24geBk4J07yfVw99r1AnLvLC9t/view)
Secure the following documents:

A photocopy of your valid passport and employment visa
Proof of employment, which can be your verified employment contract, OEC, valid OWWA membership, and so on.
Proof of loss of employment on account of COVID-19, which can be a termination letter, a notice of termination due to COVID-19, and so on.
For OFWs who became undocumented through no fault of their own, proof that OFW is currently involved in an ongoing case, which can be the case reference number, endorsement stamp from POLO, and so on.

Send your application in this link (https://docs.google.com/forms/d/e/1FAIpQLSeW6zc64A_ZL1IoROwkLPLrDVk1SfkAVDfSpywz3TU2-9EOgA/viewform)
POLO will evaluate your application once it receives your application form and required documents. You will receive an email notification if you are approved or rejected.
If approved, POLO will release your AED 730 through money remittance or bank transfer.
Advisory Source
Please see the statement below from the Philippine Overseas Labor Office, as well as the instructions of claiming it.