In case you are planning to work as a housemaid/nanny in the UAE, it is important that you are aware of the average salary so that you can calculate if this job would be a good fit for you or not. Working as a domestic worker in the UAE, you should be aware of your rights as well as responsibilities, as well as compute your monthly budget on how much you feel you might send back to your families back in your home countries.
While there is no fixed salary because the amount varies according to your family sponsor, it is still important to know what are the typical minimum wages existing housemaids are getting to have a good estimate.
Related
– Domestic Workers over 60 Years can Still Work in UAE
– Delay in Salary and Wages Protection for UAE Workers
– Safety Protection, Social Care, and Health of Workers in UAE
– Domestic Workers Rights in the UAE
– Disciplinary Rules and Penalties for Workers as per UAE Labour Law
Before going abroad, take the time to research and understand what you will be sacrificing and what are the terms of your contract. After all, the usual contract in the UAE runs for about 2-3 years so you should be aware of what you are getting into when you go overseas.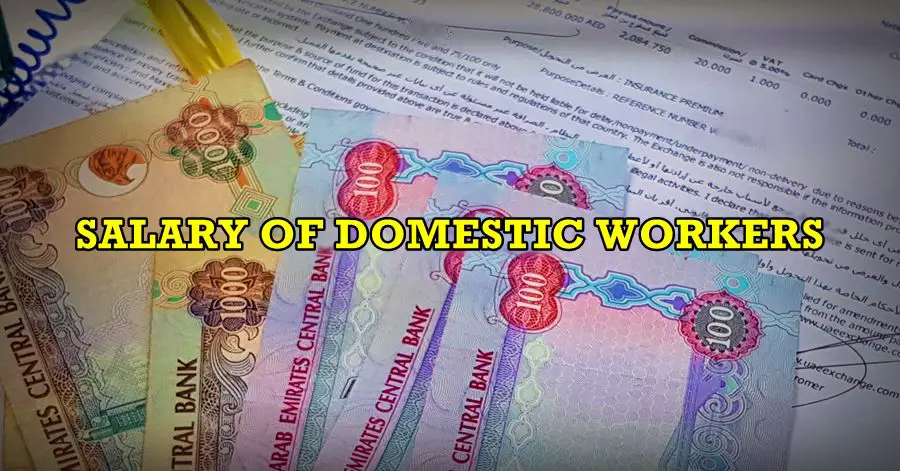 Salary of Housemaids / Nannies / Domestic Helpers in the United Arab Emirates
Many citizens from other countries may think of moving to the UAE as a domestic worker due to the idea of a better salary. Many also think that they can save more if they work abroad and be able to send money to provide for their loved ones back home.
If you have patience and determination, plus a great deal of luck, you will end up with an employer that is good and kind to you and will also protect your rights. However, it cannot be denied that there are others who are thrown into unfortunate circumstances. So before taking this risk, learn what you are getting into.
It is wise that you get an idea about the monthly basic salary and compensation packages as a domestic worker in UAE. Take note that there is no minimum wage salary rule in this country, so the monthly figure is very important.
Top Nationalities Sending Money from UAE (General Professions)
However, before we dig deeper into how much a housemaid is making in the UAE, let us first introduce to you the top 3 nationalities that send the most money from the UAE. This report conducted by UAE Central Bank studies the money-transfers of residents/expats from the UAE to the respective countries. So the data is not limited to nannies sending money, but all expatriates from different career professions.
This statistic is based on the ranking of the top remittances according to nationalities from the UAE. Here they are:
India – 35.7 %
Pakistan – 8.7%
Philippines – 6.7%
Egypt – 4.8 percent
United States – 4.1 percent
United Kingdom – 3.7 percent
Jordan – 3.1 percent
Bangladesh – 2.9 percent
Switzerland – 2.4 percent
Lebanon – 1.8 percent
The rates are based on the total amount of remittances going out of the country. The total remittances that were recorded for the first 8 months of 2017 hit AED 118.6 billion, with a 2.1% increase from the first to the third quarter of that year. The total amount remitted during the third quarter of 2017 was AED 43.3 billion, 14.1% higher than the reported AED 37.9 billion in the same period of the previous year.
In addition to this, the UAE Central Bank disclosed that 82% of the total labor force in the country come from Asia. This percentage sends out an estimated AED 22.1 billion in the second to the last quarter of 2017, which is considered as 51% of the overall remittances.
How much can a housemaid earn in the UAE?
Are you now curious about the money that can be earned if you work as a housemaid in the UAE? Rise, a start-up firm based in Dubai that provides financial services for low income migrants has conducted a survey and collected data to provide this helpful estimate.
According to their data, over 200,000 housemaids are hired through a nanny hiring group on Facebook and the study was conducted by talking to over 1,000 housemaids and employers in the country.
The average salary of a housemaid in the UAE is AED 1,830.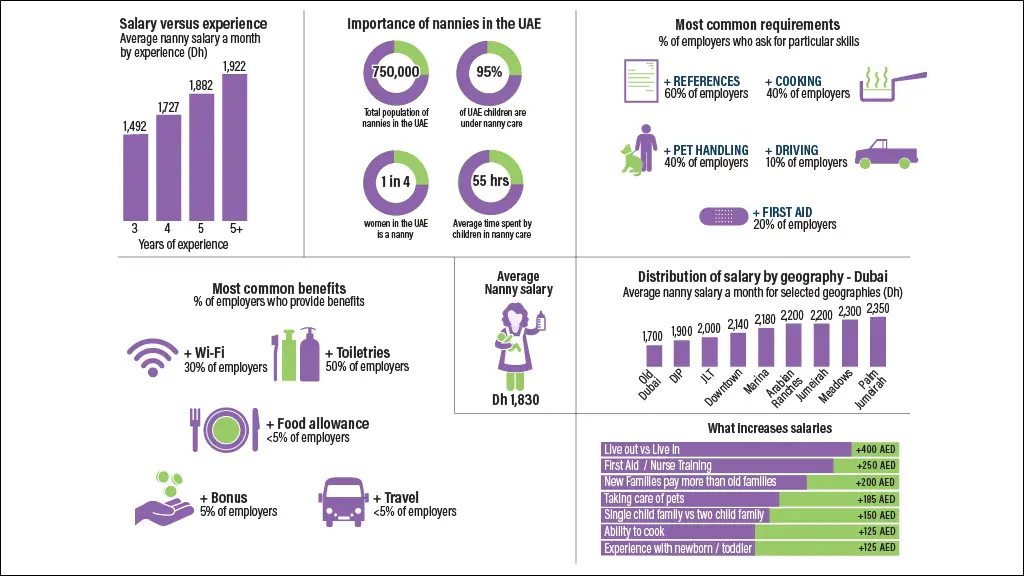 What are the factors affecting the salaries of housemaids in the UAE?
As part of the study conducted by the Rise, they came up with different factors that affected the salaries of housemaids in the country. Here are the data collected based on the information given by the participants.
The salary of a housemaid can increase based on live out vs. live in (plus AED 400), ability to cook (plus AED 125), taking care of pets (plus AED 185) and taking care of newborns or toddlers (plus AED 125).
The salary of a housemaid can increase depending on her experience. If a housemaid has at least 3 years of experience, she can earn up to AED 1,492. If she has more than 5 years of experience, she can earn up to AED 1,922.
The salary of a housemaid can increase depending on the location of where she works. In Old Dubai, the earnings can be as much as AED 1,700. In Downtown Dubai, it is AED 2,140 and in Palm Jumeirah, it is AED 2,350.
In the UAE, there are about 750,000 housemaids and 95% of the children in the country are being put under their care.
Before someone becomes a nanny, employers require the following requirements: the ability to cook (60%), ability to take care of pets (40%), ability to drive (10%), references (60%), and ability to do first aid (20%).
Some of the common benefits provided by the employer are Wi-Fi connection, toiletries, food allowance, and travel allowance.
The salary of a housemaid here in the UAE depends on a lot of variables. If you are just starting out, expect that you will receive a lesser amount than the average. But, this is not something you should be saddened about. You can increase your salary by getting more experience and by learning the skills required by most employers.
It is wise to take note and read your contract carefully before committing into anything. 2 years is not a short duration after all. You will also be adjusting to a different environment so if you have relatives who can use this information, don't forget this article to them so that they may find it helpful.