The UAE Cabinet recently held a meeting as part of its preventive measures to combat the pandemic. The meeting included the decision to extend residence visas that expired on March 1, 2020 for a renewable period of 3 months without any extra fees/penalties upon renewal.
Also Read: UAE Visitors Affected by Flight Suspensions will be Allowed to Legally Stay
This decision was made to help spare residents from any obligations during these challenging times. This is a good news for residents who are dealing with the pressure on how to renew their expired residence visas given the current condition.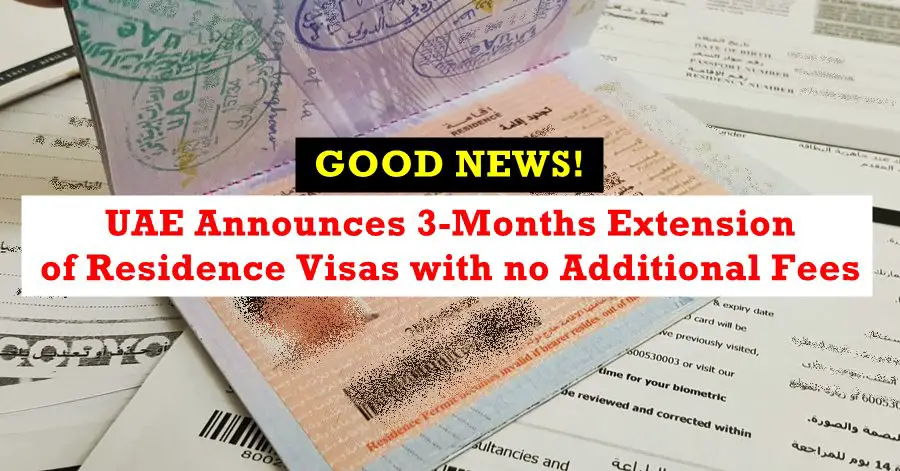 No Penalties or Additional Fees for 3-Months Extension of UAE Residence Visas
The Cabinet has also waived the administrative fines associated with infractions relating to the services provided by the Federal Authority of Identity and Citizenship and approved by the Cabinet. The decision will be valid for a renewable period of three months effective April 1st.
Below is the post from WAM news agency regarding this announcement:
UAE cabinet approves new measures to contain impact of #Covid_19 #WamNews https://t.co/ttCTZG6xxa

— WAM English (@WAMNEWS_ENG) March 30, 2020
It has also agreed to provide a temporary license for a scheme on digital transaction management solutions for Notary Public's services in order to facilitate judicial transactions under the current circumstances and to ensure safety of litigants and all those dealing with judicial departments.
The Cabinet additionally approved the extension of government services expiring on March 1st onwards for a renewable period of three months, starting April 1st. The decision applies to all federal government services, including documents, permits, licenses and commercial registers and their likes.
———
We thank the UAE for extending their support to residents. This is indeed a challenging time for everyone.
Below is a Tweet from His Highness Sheikh Mohamed bin Zayed Al Nahyan, Crown Prince of Abu Dhabi, following the approved UAE Cabinet decisions:
في هذه الأزمة..نفخر بمواقف المواطنين والمقيمين ، ولنا الشرف بخدمتهم..و نعتز بأخوتنا المقيمين الذين نسعد بهم على أرضنا..قمة الوفاء حين نراهم يرددون النشيد الوطني الإماراتي في هذا الوقت الصعب..نحن محظوظون بالجميع في وطننا..وبمشيئة الله سنتجاوز معا هذه المرحلة. pic.twitter.com/wWKhJdCQ8U

— محمد بن زايد (@MohamedBinZayed) March 30, 2020